Are you looking for pallet forks for your tractor or loader? You should take a look at the forks from the American manufacturer Titan Attachments first!
In this article about the 4 best Titan pallet forks, I will provide valuable information on Titan Attachments, why this manufacturer is the top-of-mind of many homeowners and professional farmers, and the in-depth reviews on some best-selling items of this brand for both light and medium-duty work.
*This post may have affiliate links, which means I may receive commissions if you choose to purchase through links I provide (at no extra cost to you). As an Amazon Associate I earn from qualifying purchases. Please read my disclaimer for additional details.
Top 4 Best Titan Pallet Forks
About Titan Attachments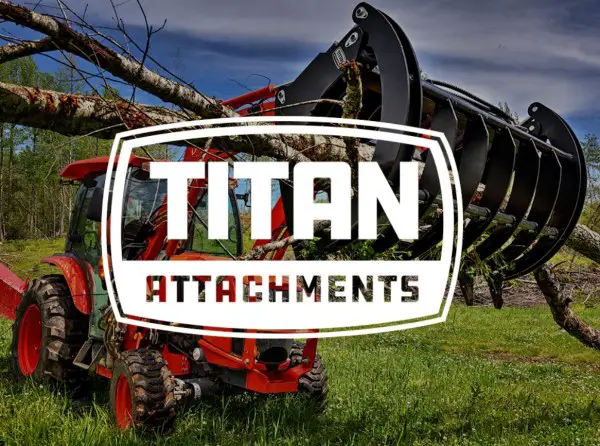 Titan Implement, LLC. is an American manufacturer of agricultural equipment and implements. This brand was established in 2014 by Mike and Bailey Turner, two experienced farmers in a family of 5 farmer generations.
Over 7 years of development, Titan Attachments has produced many, like rotary cutters, box blade scrapers, rotary tiller, landscape rakes, grader blades, skid-steer attachments, disc harrows, etc. Titan products can also be used for non-agricultural purposes, like light jobs on construction sites, landscaping, and municipalities.
Pallet forks of Titan Implements are highly praised for their build quality, excellent functionality, and fair price tags. They are also compatible with many tractor and loader models of John Deere, Kubota, etc.
In-depth 4 Top Rated Titan Pallet Forks Reviews
Specs:
Capacity: 1500 lb
Weight: 50 lb each
Stabilizer bar weight: 24 lb
Stabilizer bar length: Adjusts from 29″ – 44″
Check Latest Price
Available at an affordable price tag, these 46-inch pallet forks from Titan Attachment are a great tool to transport bulky items like lumber, logs, firewood, fence posts for small farm owners or ranchers with a weight capacity of 1,500 pounds.
Besides, you can also use it for clearing debris or rearranging hay bales. You can even use this versatile tool for light transportation jobs on construction sites.
How can these clamp-on pallet forks handle weighty objects of varied sizes and dimensions?
Thanks to their adjustable stabilizer bar with a width ranging from 29 to 44 inches (or the distance between two forks), you can modify the knob to make their lifting job stronger depending on the working objects. Since this item is made of sturdy, solid steel, it can handle all light lifting jobs well without bending your lower back.
Another strong plus of these pallet forks is that they can be used for John Deere, Ford, New Holland, Kubota tractors, or other well-known tractor models. Just secure it with your tractor with L-clamps, and it can be ready to use.
Pros
Cons

Suitable for light-duty jobs
Affordable
Compatible with many well-known tractors
Adjustable stabilizer bar

The fork width is a bit short (only 3 inches)
Capacity: 4000 lb
Weight: 49 lb each
Check Latest Price
These pallet forks from the Titan Attachments family have an extensive length of 46 inches and a rated weight capacity of 4,000 pounds, meaning that they can handle heavier lifting better than the above item. You can use this attachment on your tractor, loader, or skid-steer for lifting a wide variety of goods.
Apart from its build quality and weight capacity, why can this pair of pallet forks be a reliable choice for heavy-lifting jobs on farms and construction sites?
First, it uses chain holes to secure the lifting objects in one place.
Second, its rollback protection slots protect you and your vehicle from possible damages and hurt.
Since this item is meant to be used outdoors, it has a powder-coated finish for better weather resistance. In other words, you can use this attachment for an extended period without worrying about rust.
Pros
Cons

Chain holes for safe heavy-lifting
Rollback protection slots
Made of sturdy steel with a powder-coated finish

Hard to install with no modification
Specs:
Capacity: 2600 lb
Total weight: 229 lb
Fork weight: 95 lb
Check Latest Price
The third best pallet forks for tractors from Titan Attachments also have a length of 46 inches but can only lift heavyweights of up to 2,600 pounds. Yet, they promise to offer you extreme durability resulting from its heavy-duty steel construction. Their sturdy tines make it easier to lift and move hefty items.
While on the first two above items, many users face difficulties when hooking up the pallet forks to their tractor, you won't see this problem on this 46-inch model. This tractor attachment has a universal Quick-Tach mount like the Titan 42" pallet forks so that you can easily install it to your tractor's bucket.
Nonetheless, this pallet fork set has a universal design, working with most lawnmowers, loaders, and tractors from New Holland, Kubota, and others.
However, it has dimensions of 52 x 45 x 4 inches, which is bulkier for storage than the two above.
Pros
Cons

Quick installation with the help of a universal Quick-Tach mount
Universal design
Sturdy tines

Take up too much storage space
Specs:
Capacity: 1500 lb
Stabilizer Bar Weight: 14 lb
Stabilizer Bar length: Adjusts from 19.5" – 36"
Pair weight: 62 lb
Check Latest Price
Another light-duty candidate on my best Titan Pallet forks reviews is this 30-inch pallet fork set.
This item is more suitable for tractors or loaders with a narrow bucket than the first 46-inch one since it has an adjustable stabilizer bar that can be modified from 19.5 to 36 inches. You can use this compact tractor attachment to stack or move bay hales on your farm.
Since these pallet forks have a shorter fork length of 30 inches, they can access tiny or odd-shaped spaces on small or super small farms to handle light-duty transportation jobs.
Besides, they can be stored easily thanks to their compact sizing of 48 x 12 x 4 inches (not as bulky as the 46-inch Quick-Tach forks).
However, these pallet forks also have disadvantages than the three remaining items. First, it can't be used to lift or move large loads due to its limited fork length. Second, you have to spend more time tightening the clamps to prevent them from slipping.
Pros
Cons

Suitable with farm vehicles with a narrow bucket
Can access small spaces with ease
Easy storage

Hard to handle heavier loads
Need to spend more time tightening the clamps
FAQs (Frequently Asked Questions)
1. Where are Titan attachments made?
All Titan attachments are made in the USA.
2. What size pallet forks do I need?
The size of pallet forks depends on how you will use these pallet forks and the condition of the working area. For example, if you need to use them in tight spaces, a set of pallet forks with a length of 36 inches is easy to maneuver.
3. How are pallet forks rated?
Pallet forks are rated by their load capacity or the maximum weight they can lift at a time. For example, a set of pallet forks with a rated load capacity of 4,000 pounds can raise an object of up to 4,000 pounds. You should not use the pallet forks to lift or move anything that exceeds this weight limitation.
4. Are pallet forks universal?
Not all pallet forks are universal. In other words, only pallet forks that are marked as "universal" are available for many tractor models.
Even if you use universal pallet forks, you should use a universal attach mount at the front of your tractor or loader to assemble them with your vehicle.
5. How long do pallet forks need to be?
You should choose the forks with a length of at least 2/3 the size of the load. For instance, choose a 4-feet set of pallet forks to lift loads to 6 feet.
Review Summary
After reading my best Titan pallet fork reviews, I hope you have collected extra information on this well-known manufacturer and its products.
All these above pallet fork sets are the most popular items on Titan Attachments. You can consider getting an appropriate one based on your job requirements or the item's features.
For me, the first Light-duty 46-inch Clamp-on set is my top choice for handling most lifting jobs on my farm. This item is affordable yet includes all essential features that small farm owners and ranchers love, like an adjustable stabilizer bar and high compatibility with well-known tractors.