Skid steer tracks (or tracks for compact track loaders – CTLs) are essential for your skid steer loader. They distribute the earthmoving machine's weight across a larger area, thus minimizing ground disturbance when moving on sensitive surfaces.
However, choosing the best skid steer tracks isn't an easy task, especially for new landowners. Besides the machine's application and job size conditions, you must fully acknowledge their tread patterns, sizes, brand reputation.
This article will ease your track selection process by providing an in-depth review of the 7 best-rated tracks for your skid steer loader.
*This post may have affiliate links, which means I may receive commissions if you choose to purchase through links I provide (at no extra cost to you). As an Amazon Associate I earn from qualifying purchases. Please read my disclaimer for additional details.
Top 7 Best Skid Steer Tracks On The Market 2022
In-depth 7 Top Rated Skid Steer Tracks Reviews
Check Latest Price
These rubber tracks with the dimensions of 450x86x55 inches are one of the best skid steer tracks for farmers who operate a CTL, MTL on and off-road. They can be compatible with many Bobcat skid steer loader models, like T250, T300, T320,  T740, T750, T770.
What is noticeable first here is that these tracks have a C-Lug tread. This most versatile pattern helps improve the traction and performance of your earthmoving machine. Thus, you can handle heavy-duty jobs on rugged terrains like mud, clay, concrete, asphalt, sand, gravel.
However, those items are the most expensive one on this top list, making them hard to reach for new farmers or those who work on small lawns and properties.
Pros
Cons

Fit with many Bobcat skid steer loaders
Suitable for many terrains
Check Latest Price
Thanks to these tracks from Rubber Tracks of America, you can continue your lawn or landscaping jobs on rainy days. These tracks also have a popular C-lug pattern and fits Bobcat T180, T190, T550, T590, and T595.
The rubber tracks provide lower ground pressure than straight-bar and multi-bar but more pressure than a turf pattern. Therefore, they minimize profit loss by reducing the areas needed to repair your lawns and landscapes at the end of the day.
Versatile as they might be, these C-lug tracks are not applicable for snow. Instead of gripping onto the snow, they dig into the snow and slows down your machine's movement.
They also provide little traction for the skid steer loader's operation on icy surfaces.
Pros
Cons

Low ground pressure helps minimize damages to lawns and landscapes
Made in the USA

Can't be used on snowy terrains
Check Latest Price
Why do I prefer rubber tracks to steel tracks? Because they provide better traction and operator's comfort on most surfaces.
Compared with the #2 C-lug tread, these rubber Block tracks also fit Bobcat T180, T190, T550, T590, T595, but they are more affordable.
These 13-inch rubber tracks are similar to the second skid steer tracks but have a different pattern – a staggered block tread, widely used in loaders of well-known manufacturers like John Deere, New Holland, Bobcat, etc.
It would be a perfect pick for grass or hard and abrasive surfaces like gravel, paved highways, or hot surfaces,
Due to their ability to minimize disturbances on finished lawns in wetter months, you can use these rubber tracks on asphalt, clay, dirt, sand, and more.
Pros
Cons

Staggered block tread pattern; best used on hard and abrasive surfaces
Low ground disturbances
Check Latest Price
Although steel tracks don't provide a smooth riding experience to the operator as rubber ones, they are more outstanding in terms of durability.
These steel tracks from TracksPlus are made from Marbain steel – the most rigid steel in the lawn equipment industry resulting from the heat-treating process originated by Fisher Barton.
While this material is used in some lawnmower blades, it brings much more enhancement to your machine's stability and performance than conventional steel tracks.
As stated by the manufacturer, these tracks can have a maximum of 18,000 hours of use.
You can use them for Bobcat 700 series, S130, S150, S175, S185, and S205-1 Pair. Additionally, they can be assembled easily – it takes just 20 minutes for the installation and 10 minutes to take the tracks off your loader.
Pros
Cons

Made from Marbain steel for outstanding stability and performance
Extreme durability of 18,000 hours of use
Quick assembly

Can't provide a smooth operator's driving experience like rubber tracks
Check Latest Price
Straight-bar tracks like these Aftermarket tracks provide the highest ground pressure among the four track patterns. Thus, they are designed to work on terrains requiring high traction, like muddy and wet terrains.
These straight-bar tracks are an affordable option for your skid steer loader, and they fit with Caterpillar 257-B multi-terrain loader.
Due to the straight-lined design, these Aftermarket tracks lessen the chance to get stuck on mud than tracks with C-lug and staggered block treads.
However, this track pattern might vibrate the loader when riding on hard surfaces, like on pavement, resulting in a distressing ride for the operator.
Pros
Cons

Can work on muddy or wet terrains with no stuck
Affordable

Can cause machine's vibration when riding on rugged and uneven terrains
Check Latest Price
Rio Rubber Track is a reliable option for lawn workers who often have to deal with landscaping jobs on many challenging terrains. These tracks have the dimensions of 380 x 101.6 x 42 inches and are compatible with CAT 247B 2 3 257B 2 3 D ASV RC50 RC60.
Why do I call these single-molded tracks a good idea for winter?
Because they have a pattern mixed between straight-bar and Terrapin patterns. These tracks have extended linear edges that grab the snow and ice instead of digging into it.
This unique pattern eliminates the disadvantage of these two pattern types, thus allowing you to use them all year round, even in the coldest months of the year.
Another reason that makes these tracks for working on slippery surfaces is that they come with extra features and parts to maximize your machine's performance. For example, the jointless steel cord technology and the 5-ply symmetrically steel cable braiding are embedded in the track system for added durability and strength.
Pros
Cons

Single-molded construction for added sturdiness
Jointless steel cord technology for extra strength on icy surfaces
Check Latest Price
These best-rated tracks are also from Rio Rubber Track but made for CAT 259 259D 259B 259B3 skid steer loaders.
They also come with outstanding features as the above item, like the jointless steel cord technology, the 5-ply symmetrically steel cable braiding, and the single-molded tread bars.
Proudly made in the USA, these tracks are precisely engineered to assist you in harsh working environments.
Another reason that I love these rubber tracks is that they come with a 12-month warranty from the manufacturer.
Besides, you will have 7 days to get your money back if you aren't satisfied with the product. Please notice that the product has not to be used, and it should go with the invoice with purchase details.
Pros
Cons

Made in the USA
12-month warranty; 7-day money-back warranty
How To Choose The Best Skid Steer Tracks?
Your track loader's applications
The first and foremost step when thinking about tracks for your loader is to consider the worst scenario that your farm vehicle can experience. Then, use it as a baseline to pick up tracks that can handle that condition.
For example, in turf applications, you should choose tracks that help minimize damages while working on grass. Avoid those that are designed for demolition applications as they can damage your lawns.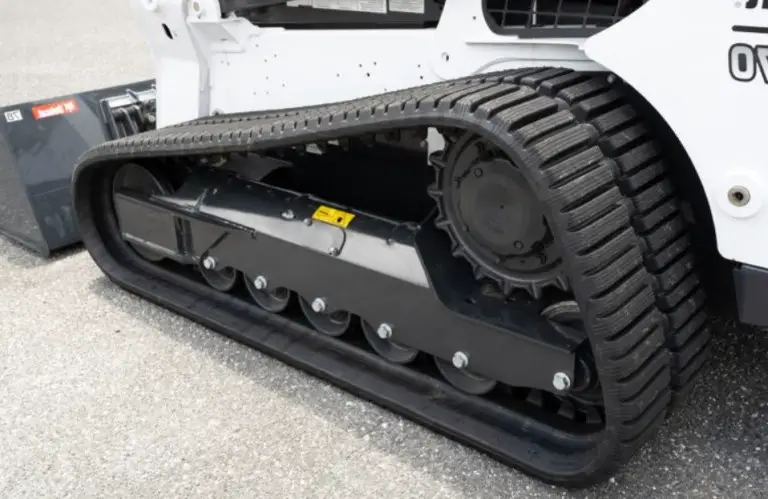 Weather and terrain
The local weather and terrains are two vital factors that influence your track choice.
For example, standard tracks are usable for most common cases. But if you live in snowy and icy areas, you should choose wider tracks with deep patterns for increased traction and lower pressure on the ground.
Style
The track's style is another important criterion you should not neglect when using tracks for your farm machinery. You should choose the appropriate style of tire for your skid steer loader and also check the vehicle's guidelines to know the correct track size.
Rubber tracks embedded with metal pieces are widely seen on the market. A high-quality rubber-embedded track differs from cheap, low-quality ones in its rubber compound, pattern design, iron core, carcass thickness, and alignment of steel cables.
Each track manufacturer has a unique track design to maximize the track's lifespan and performance. For example, Over The Tire Tracks (OTT) are an intelligent track upgrade for your skid-steer loader.
Rubber OTT tracks: Boost your loader's flotation and traction for the operator's comfort and provide better surface protection on muddy and sandy terrains.
Steel OTT tracks: Last longer than rubber OTT tracks. They also provide better traction in off-road riding and handle stability on rough, uneven terrains, like muddy lawns, hilly roads, or steep slopes.
Quality
You should directly purchase tracks from the equipment manufacturer to ensure that your tracks are in good condition and fully receive the after-sale support and warranty service.
Another way to check the quality of a track is to look at its small details. For instance, tracks with embedded co-polymer cords provide extra power. Plus, tracks engineered with a single-cure process & circular press technology will have less risk of premature breakage than cheaper, ordinary ones.
Wide or narrow tracks?
When it comes to choosing skid steer tracks, you should consider a width type that best fits your working conditions. There are two width choices for tracks – wide and narrow.
Choose wide tracks: if you have to work on soft soil (like mud or sand). A wider track minimizes ground damages while increasing your track loader's flotation.
Choose narrow tracks: If you have to work on slippery or wet, icy conditions (for example, on snow) or when you want to maximize your track loader's push force on a hard surface.
Track pattern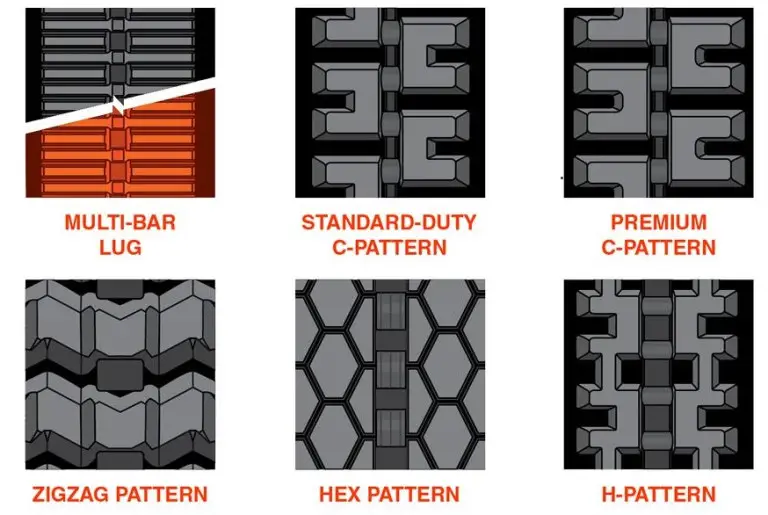 Skid steer tracks are available in different patterns. You should pick up a pattern based on your needs:
Tracks with a straight bar pattern are helpful if you have to ride your CTL or MTL on wet, muddy terrains. Unlike the C-Lug pattern, this pattern can help you get through muddy roads without getting stuck.
In addition, you can use straight-bar patterned tracks on low or high speeds without hurting the underlying lawns, thanks to its low durometer rating.
However, this pattern doesn't promise to deliver smooth rides like C-Lug or staggered block patterns.
While a staggered block pattern is engineered for hard, hot, and abrasive surfaces like gravel and paved highways with incredible durability, it can also be utilized for many other terrains and purposes. Thanks to minimal ground disturbances, you can use tracks with this pattern on sensitive surfaces like finished lawns. Besides, it can be safely used on clay, mud, dirt, sand, gravel, and asphalt.
A multi-bar pattern is highly durable and can be used for four seasons in the year. This pattern can quickly switch between loose materials with smooth rides and better traction on hard and flat surfaces.
You can use multi-bar patterned tracks on general construction sites or sand, dirt, and snow. But avoid using them on rocky terrains.
C-Lug pattern is one of the most well-known skid-steer track patterns on the market. This pattern looks similar to the staggered block pattern but has a C-shaped cut-out to create constant contact and traction to the ground.
This pattern works best for people using a CTL or MTL on on-road and off-road when riding on asphalt, concrete, clay, mud, gravel, and sand. But never use it on snow!
Choose tracks with a zigzag pattern if your work requires frequent movement on extraordinarily wet and muddy terrains.
Hex pattern is proper on landscaping projects, tuft, sand, and solid dirt surfaces. It provides a comfortable and smooth riding experience while minimizing damages on sensitive surfaces (like grass and lawns). But avoid using it on extremely wet terrains.
H-wave pattern (or H-shaped pattern) is a general pattern for various applications and surfaces. Similar to the C-Lug pattern, this pattern creates constant contact to the ground for a relaxed riding experience with maximum traction.
It also helps reduce vibration and undercarriage damages. You can use H-shaped patterned tracks on general construction applications on concrete, mud, sloped, rock surfaces.
If your work requires minimizing track marks when riding on hard surfaces, you should choose tracks with no pattern (or non-marking tracks). This particular track type is often used on surfaces that are in maintenance, like driveways, parking lots, and sidewalks.
FAQs (Frequently Asked Questions)
1. Are skid steer tracks worth it?
Skid steer tracks can handle your digging and demolition jobs better than wheels. They have more contact area with the ground than wheels, enabling them to dig into piles of dirt or muddy soil effectively.
2. Are wider tracks better?
Wider tracks work better on soft soil (like mud or sand). They minimize ground damages while increasing your track loader's flotation.
3. Are skid steer tracks good for snow?
Skid steer tracks can effectively remove snow, provided that you pick up the right track pattern for this job. You should use bar-style patterned tracks for this job since this track pattern can grip the wet snow much better than the traditional block-style one.
4. What is the average life of a skid steer?
The average life of a skid steer is 5,000 hours.
This lifespan also depends on some factors, including the difficulty and type of work you are using your vehicle for, how often you use your vehicle, how well you maintain it, and whether it is new or used.
5. What is better rubber tracks vs steel tracks?
Each track material has its advantages, making it suitable for specific terrain and working conditions.
Rubber tracks have better traction than steel tracks on smooth, dry surfaces. Thanks to its lightweight, rubber tracks can work hard surfaces like asphalt or concrete with no damages or wear. They can be used on finished landscaping/lawns or existing pavement with minimal surface damages. However, rubber tracks can shortly be damaged by chemicals or materials on the working surfaces. They also require more maintenance effort.
On the other hand, steel tracks gain better traction on harsher terrains and environments. They can offer higher stability on wet or muddy terrains, or safely push the skid steer loader through extremely uneven, rocky surfaces. They also have better durability and require less maintenance effort than rubber tracks.
My Top Pick
To cope with challenging terrains and weather conditions, you should pick up the best skid steer tracks that are compatible with your loader. Have you got any ideas on the next track to buy among these 7 best-rated ones?
The first C-Lug Track from Rubber Tracks of America is my most favorite track item for years. Although those tracks are not cheap, they can help your vehicle run smoothly on almost all terrains. They are also compatible with both CTL or MTL, including some Bobcat loader models.