For decades, Germany has been famous for a variety of credible tractor manufacturers that have distributors around the world.
In this article, we cover the top 7 German tractor brands. Keep reading for interesting history stories that build up these German tractor manufacturers' great successes.
*This post may have affiliate links, which means I may receive commissions if you choose to purchase through links I provide (at no extra cost to you). As an Amazon Associate I earn from qualifying purchases. Please read my disclaimer for additional details.
German Tractor Brands
When it comes to well-known German tractor manufacturers, Fendt, Deutz-Fahr, Claas, Hanomag, Eicher, Fortschritt, and Anton Schlüter München should not be missed.
1. Fendt
Founded: 1937
Headquarters: Marktoberdorf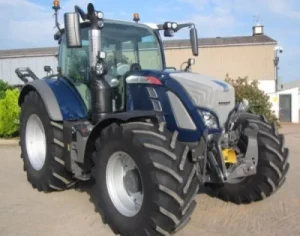 The German tractor manufacturer Fendt was established in 1937 by Xaver Fendt.
Its headquarters were constructed in Marktoberdorf, Germany and In 1997, Fendt was bought by AGCO Corporation.
The Fendt company produces and trades all kinds of balers and tractors, and has recently sold combine harvesters manufactured by Laverda and AGCO.
In addition, the firm is also famous for producing Vario gearboxes that can be found in Valtra, JCB, and Massey Ferguson machines and be considered the most innovative gearbox nowadays.
When equipped with gearboxes, tractors run faster than their electronic version having a maximum speed of just 50km/h.
Read More: What Type of Hydraulic Fluid Does a Mahindra Tractor Use? Here's the best fluid for Mahindra tractors!
2. Deutz-Fahr
Founded: 1894
Headquarters: Cologne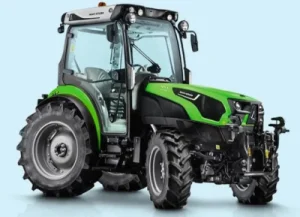 The tractor brand Deutz – Fahr is a combination of two different brand names, Deutz and Fahr.
Deutz was founded in 1894 and Fahr in 1968.
In 1961, Deutz- Fahr was formed in Cologne, Germany and was known as KHD (Klöckner-Humboldt-Deutz). Nowadays, it belongs to an Italian tractor company called SAME Deutz- Fahr.
The Deutz- Fahr is the most famous German tractor manufacturer in the world and sets the main target of bringing customers innovative tractors that help boost the productivity of farming.
In addition, Deutz- Fahr tries to update their technology regularly to meet farmers' needs, and then produce modern tractors that meet the demand.
3. Claas
Founded: 1913
Headquarters: Harsewinked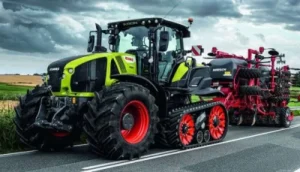 Claas is a famous German tractor manufacturer that generates agricultural machinery.
It was officially founded in 1913 by August Claas and is located in Harsewinked. For years, Claas has distributed their German tractors around the world.
This family business leads the field of harvesting innovation in Europe for combined harvesters and also the globe for self-propelled forage harvesters.
In 2017, the company planned investment in the sector of digitalization of agriculture.
This German tractor company comes with different types of German farming equipment such as tractors, mowers, balers, and other agriculture machinery.
Claas's priority is farmers' benefits, hence, their aim is to provide efficient and high-quality agriculture equipment that comes with affordable costs.
4. Hanomag
Founded: 1879
Headquarters: Hanover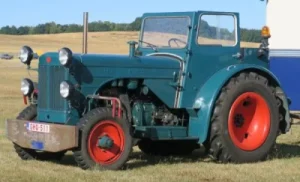 The Hanomag German tractor company was founded in 1871 by George Egestorff.
In 1989, it became a part of Komatsu, the second-largest construction machinery corporation in the world and is located in Hanover, Germany.
Its products include steam locomotives, military vehicles, trucks, and tractors.
This German tractor is a well-known brand around the world due to its steam straw binders and steam locomotives prior to World War I as well as its first tractor Hanomag R26 in 1924.
Moreover, the Hanomag manufacturer continued to dominate the market by producing cars in 1925 and machines serving the construction field in 1931.
5. Eicher
Founded: 1936
Headquarters: Forstern town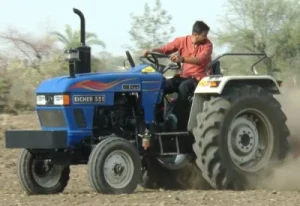 The Eicher company was formed in Forstern town in 1936 by Albert and Josef Eicher.
Albert and Josef Eicher were brothers with farming land, passion, and knowledge in the agriculture sector.
The products from this German tractor company range from tractors to agricultural engines.
After carrying out experiments on different kinds of tractors, the two siblings achieved huge success in the first diesel tractor produced in 1936.
This achievement partly gives the first opportunity for the Eicher brand to appear at the DLG exhibition in 1937.
Thanks to the transformation in the engine, Eicher tractors have become more popular not only in Germany but also in Austria.
6. Fortschritt
Founded: 1951
Headquarters: Saxony, Neustadt, and East Germany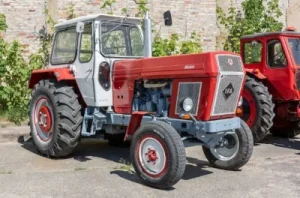 Fortschritt is considered the biggest agricultural machinery firm in Germany.
Established in 1951 to produce tractors, combines, and other agricultural equipment its headquarters were built in Saxony, Neustadt, and East Germany
The products are generated by its parent company VEB Fortschritt and sold under the brand of Fortschritt.
In 1997, the Fortschritt corporation was purchased by Case IH, the market leader in farming machinery around the world.
7. Anton Schlüter München
Founded: 1898
Headquarters: Bravia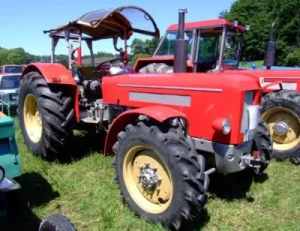 Anton Schlüter München, or Schlüter for short, was founded by Aton Schuter, a commercial conuncilor, in 1898 with headquarters in Munich, Bravia.
The company started with its main goal to produce agricultural engines that could work with gasoline and varied fuels.
After going through ups and downs, the former factory of Schlüter was closed and nowadays, it is substituted by a shopping mall.
However, farmers in many places still remember and give great love to this remarkable German-made tractor by carefully maintaining tractors they bought from this company.
Final Words
While some German tractor brands continue affirming their superiority in the farming equipment market, others exist in the memory of their loyal fans.
However, all of them were legends in the past with their vast contribution to farming innovation.
And now, if someone asks you what tractors are made in Germany, you know the answer!