Kubota and Mahindra are two competitive brands in tractor and agricultural equipment. Some people said that Mahindra tractors are superior to farmers who prefer heavy-duty farm equipment. Conversely, Kubota has also earned a lot of reputation for premium-quality compact and sub-compact tractors.
So Mahindra vs Kubota – which is the better choice for farm tractors?
This article will provide a detailed comparison of tractors of these two well-known brands.
*This post may have affiliate links, which means I may receive commissions if you choose to purchase through links I provide (at no extra cost to you). As an Amazon Associate I earn from qualifying purchases. Please read my disclaimer for additional details.
A Brand Overview 
Mahindra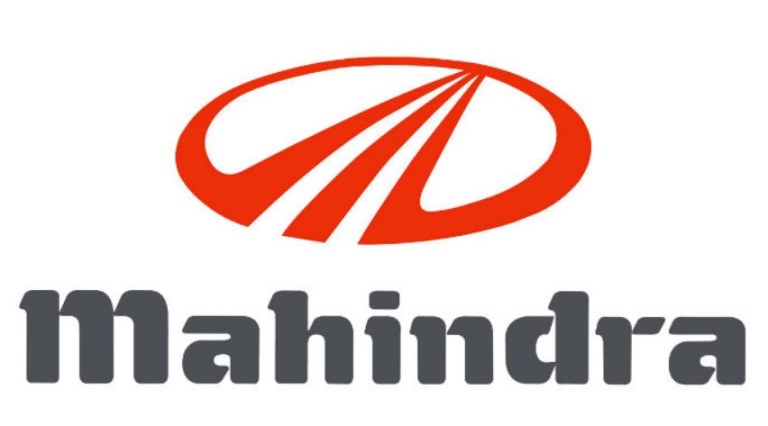 Mahindra is a subsidiary of Mahindra and Mahindra Limited, the world's largest tractor manufacturer and one of India's most popular vehicle manufacturers.
This company has been making farm equipment in India since 1963 and now has manufacturing plants in India, China, Australia, and the United States.
Besides, it also has a large consumer base in Syria, Iran, Serbia, and some countries in Africa, Asia, North and South America.
Read More: Mahindra Tractor Reviews. We review Mahindra tractors in th is ultimate guide!
Kubota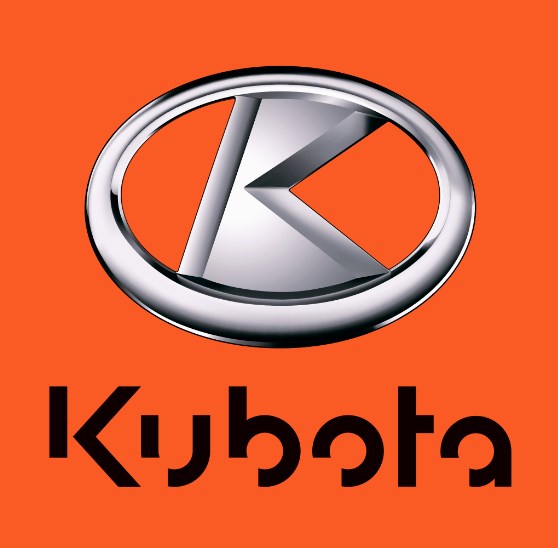 Kubota tractors are made by The Kubota Tractor Corporation – Japanese farm equipment based in Osaka, Japan. Kubota was established in 1890 and has been making the first tractors and farm machinery since the 1960s.
Kubota has its U.S headquarter in Grapevine, Texas, where it handles the financing, sales, distribution, and insurance services for US customers. Besides, it has 5 other distribution and warehouse centers in California, Texas, Ohio, Georgia, and Kansas.
Read our related article, How Do You Check Hydraulic Fluid On Mahindra Tractor? Here are the steps and tips to get started!
Mahindra vs Kubota: In-depth comparison
To know whether Mahindra vs Kubota tractor is better, I will make an unbiased comparison between their two highlighted products – Mahindra eMax 25S HST and Kubota BX2670.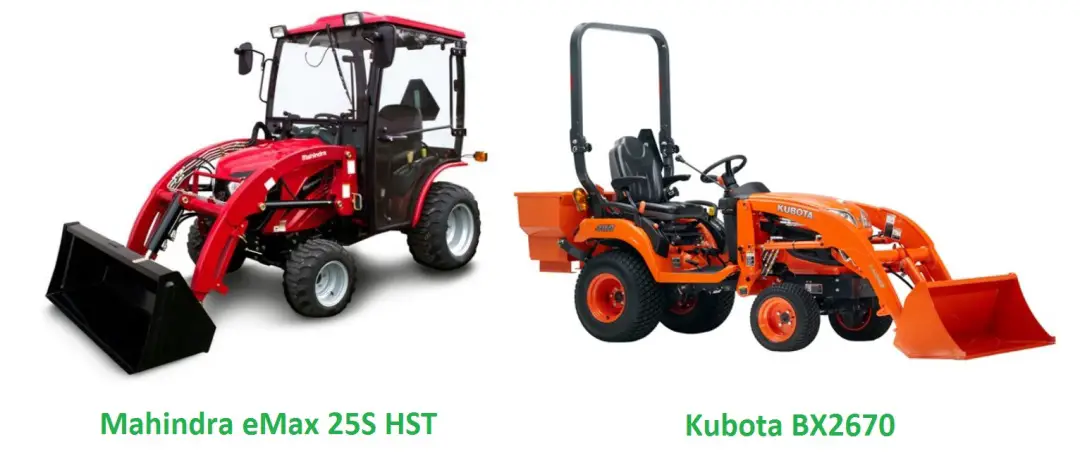 1. Ergonomics
Operator's comfort is the first key criterion for farmers and ranchers prioritizing work performance.
Mahindra tractors have insightful design and support, making them an ideal choice for landscapers and farmers who often need to use a farm tractor for an extended period.
Cab
Both Mahindra and Kubota tractors don't have a cab in their standard product items. However, Mahindra eMax 25S HST offers the cab option, so you can get it if you want.
On the other side, Kubota doesn't have the cab option for its BX2670. So you will have to find a cab from a different brand, which is more time-consuming.
Comfort
These two tractors offer operator seat support for farmers and landscapers who often need to use a tractor for an extended period. The standard Kubota has armrests, while the standard Mahindra has comfortable high-back seats to support your lumbar.
Convenience
When talking about convenience, I want to compare two – the position of the fuel tank and the joystick controls.
The fuel tank of the Mahindra eMax 25S HST is placed on the front of the vehicle. On Kubota BX2670, this tank is placed underneath the operator's seat.
The joystick controls on the Kubota are placed more ergonomically than the Mahindra. If you have to work for long hours on your sub-compact tractor, you should choose a tractor with the joystick controls conveniently positioned for you.
Read More: How Much Does a Mahindra 2538 Weigh? We answer this and more in our guide!
2. Engine
Both these companies offer a wide variety of tractor engines for many demands. However, Kubota is still the winner for its world-leading compact diesel engines.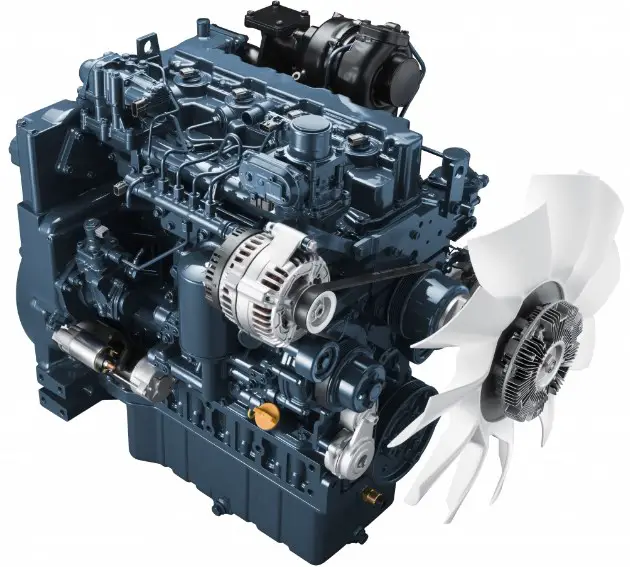 There is an interesting fact that you might not know – Kubota is the #1 provider of non-automotive, under 100-horsepower, and multi-cylinder diesel engines.
While the PTO horsepower of these two tractors is almost the same, the Kubota BX2670 performs much better with more gross horsepower than the Mahindra eMax 25S HST.
The key to this winner lies in its custom-built engines. Kubota makes their tractor engines by themselves or partnered with some reliable partners like Mitsubishi.
Therefore, they understand the engines most and can optimize the engines to reach their maximum capability. Besides, they are confident to check and fix the machines from their customers.
Read our related article, Who Makes Mahindra Engines? Learn about where Mahindra parts are manufactured.
3. Safety
Pedaling is an utmost safety criterion when driving a heavy-duty farm vehicle like a tractor. Mahindra wins over Kubota in the placement of the pedal. They offer a simple but efficient pedal even for farmers or ranchers with little experience in farm vehicles.
The Mahindra has a traditional side-by-side pedal placement, making it easier for beginners to control the tractor. Kubota BX2670 features a modern treadle pedal. While this pedal position allows you to have more floor space, farmers with little experience might find it challenging to drive.
4. Specs
Mahindra vs Kubota, which tractor brand is better when it comes to specs?
While Mahindra has a sturdier build and higher lift capacity, Kubota is more flexible and maneuverable in weird-shaped and small lawns.
Weight
Mahindra eMax 25S HST weighs 65kg heavier than Kubota BX2670 due to its heavy-duty steel construction and bigger tires. This number doesn't seem like much but can result in a more potent impact force on your lawns.
However, the more compact dimensions of Kubota make it more controllable in small and tight spaces.
Lift Capacity
Mahindra can lift an object with a maximum weight of 419 kg, while Kubota can only lift a maximum of 310 kg behind the pin. However, Kubota has a 4-point mounting system to unmount attachments instantly without tools.
5. Materials
The material quality of Kubota and Mahindra tractors is relatively the same. Their tractors are known for being long-lasting and sturdy in the farm machinery industry. However, they have some minor differences which don't affect the functionality and performance of the vehicles.
Mahindra tractors are made of solid steel and minor plastic, making them heavier than Kubota tractors. Kubota tractors are made of tough steel, cast aluminum, and little plastic.
The second difference between these two tractor manufacturers lies in their operator's station. Mahindra's station (including the console and the surrounding parts) is made of metal while Kubota's station is made of plastic.
6. Price
The tractor price of Mahindra & Kubota depends on the model, dealership, timing you purchase your tractor. When making inquiries, you should check your tractor model's price with the individual seller.
For example, there are not many differences in price between Mahindra eMax 25S HST and Kubota BX2670. The former costs $19,580, and the latter costs $19,750 on average. This general comparison covers only the tractor and doesn't include accessories, service, parts, and attachments.
Read our related article, 'What Credit Score Needed for Mahindra Tractor?' to see where you need to be to get a loan.
7. Customer support
Since a tractor is a serious investment, you expect the manufacturer to have dedicated customer service, warranties, and replacement parts. Luckily, both Kubota and Mahindra have reliable customer support services. But Kubota has twice the number of dealers in the U.S than Mahindra (1,100 vs 500).
Mahindra service
In the past, there were many Mahindra tractor problems related to difficulties in finding tractor parts. Up till now, Mahindra has made many improvements in its customer service quality.
Now when purchasing a Mahindra tractor in the U.S, you can always quickly get the replacement part you want or get your vehicle fixed soon in any of its warehouses or in authorized dealers around the U.S.
Kubota service
Both the technical support and customer service of Kubota are pretty excellent. Their employees are carefully trained to fix all problems on every tractor model.
The phone support quality of Kubota is excellent. If you have any issues like warranty information, maintenance, seasonal tips and questions, operator guides, you can easily get supported by Mahindra's knowledgeable technicians via phone.
Besides, you can shop for your tractor's replacement parts in any of its authorized 1,100 dealers or many third-party supplies. Kubota has a close-knit network with other companies to ensure that its customers quickly get the parts they need.
Read More: Mahindra Tractor Attachments. Check out this guide on attachments for Mahindra tractors!
8. Outsourcing
Outsourcing is an important criterion when deciding which tractor to buy, Mahindra or Kubota. While this criterion mainly depends on personal preferences, many people prefer tractors that have all parts manufactured by the tractor brand.
Read More: Adding Hydraulic Fluid to Mahindra Tractor. Here's how to top off your tank!
Kubota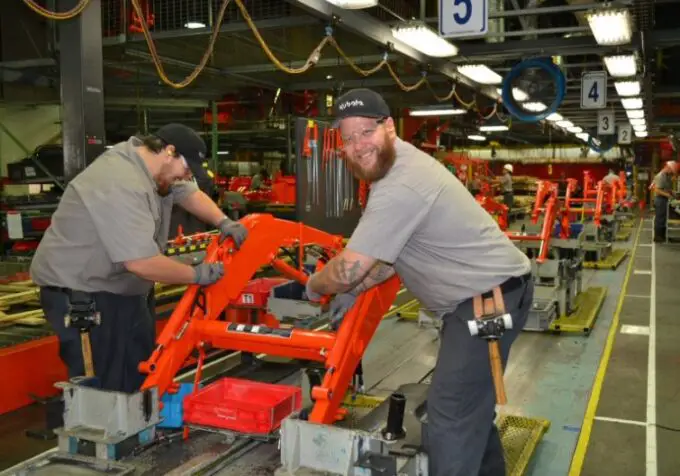 All parts of a Kubota tractor, including the engine, are engineered by Kubota.
To meet the demand for the U.S market, Kubota has many manufacturing centers all around the U.S. A center that manufactures tractors, loaders, and backhoes is located in Georgia and another for machine engines is in Illinois.
Mahindra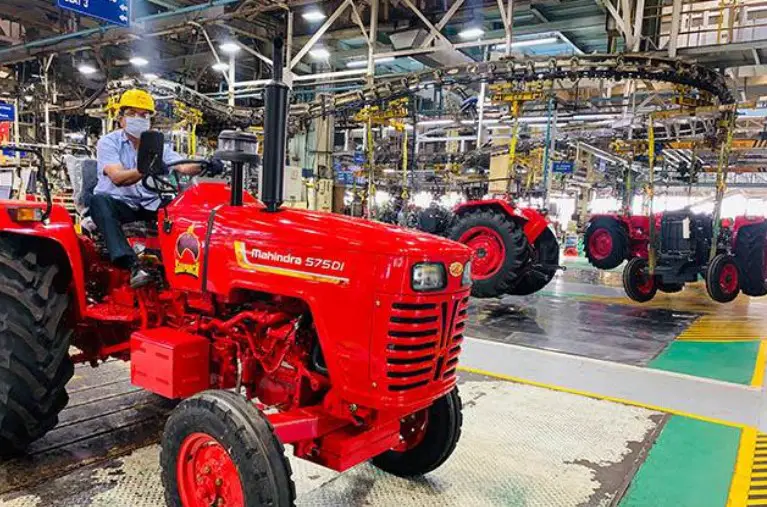 Mahindra doesn't make all tractor parts by itself. Although it has 5 assembly and distribution centers in the U.S, it does outsource some engines, tractors, and accessories.
For example, the Mahindra eMax 25 HST is made by Tong Yang Moolsan. Some Mahindra farm engines are assembled by Parkins and Mitsubishi. Additionally, some loader and backhoe models of it are being made by KMW.
Read more: Kubota vs John Deere – Which is better?
Round It Up
After taking a detailed comparison of Mahindra and Kubota, you have the necessary information to pick up a tractor between these two well-known brands. The Mahindra is more suitable for heavy-duty demands, while the Kubota is more compact and easy to control.
Both these two brands are reliable for your farm and lawns. They also offer various models that meet your specific requirements. So, the final decision is yours, based on your job demands, farm sizes, and budget.