A farm jack is a lifesaver for farmers and home improvement enthusiasts. It's used for lowering, lifting, pushing, or pulling heavy objects at any height level with ease.
Therefore, you should never forget to bring the best farm jack with you when leaving home and store another one in your garage for emergency cases, like fixing a flat car tire on the run.
This article will introduce you to the 6 best-rated farm jacks that you can use for your agricultural or construction work.
*This post may have affiliate links, which means I may receive commissions if you choose to purchase through links I provide (at no extra cost to you). As an Amazon Associate I earn from qualifying purchases. Please read my disclaimer for additional details.
Top 6 Best Farm Jacks on the Market 2022
In-depth 6 Top Rated Farm Jack Reviews
1. Hi-Lift XT485 48″ – Best Farm Jack For Pulling Stumps
Specs:
Load capacity: 7,000lb
Size: 48 inches
Check Latest Price
Hi-Lift XT484 is the best farm jack for the most demanding lifting jobs on farms, construction sites, or on your property. You can use it to pull old tree stumps out of your farm or lift a 2-ton car to check wheels with little effort.
The very sturdy construction of this Hi-Lift farm jack contributes to its heavyweight. This 48-inch jack consists of hard-wearing steel with four stamped steel components that can lift, lower, push, or pull heavy objects of all height levels.
Moreover, it comes with a shear bolt to prevent it from exceeding its maximum weight capacity.
Why do I call this jack my best tree stump removal?
Because it has a rated load capacity of 5,000 pounds and a tested load capacity of 7,000 pounds, making it one of the most potent options on the market. However, it's still very lightweight and compact (only 32 pounds), so you can carry it with you on the go for emergency cases.
Pros
Cons

Come from a reliable brand in the industry
High load capacity (7,000 pounds)
Lightweight and compact

Might be easy to rust if being used in wet weather
Specs: 
Load capacity: 6,000lb
Size: 48 inches
Check Latest Price
It's bothersome to get caught in the middle of your off-road riding. This utility Torin farm jack will save you from all possible accidents on the go, like spinning wheels or popped car tires. Coming from Torin – a reliable mechanical tool provider, this farm jack ensures to serve all your farm or off-road emergency demands.
Torin TRA8485 is a versatile equipment for lifting, pulling, spreading, or clamping applications. Even though it's a typical 48-inch jack, you can modify its height from 5.12 inches to 40 inches for many purposes.
This Torin farm jack can lift heavy objects of up to 3 tons, thanks to its 6,000-pound load capacity. But the most noticeable point of this mechanical tool is that you can lift things vertically or horizontally.
Since this farm jack has a powder-coat finish and zinc-plated hardware, it can withstand all harsh weather conditions with no rust or damage. It also meets ASME B30 standards for its extreme safety for users.
When purchasing this item, you will get a limited 1-year warranty from the manufacturer. So if you have any issues while using the Torin Big Red, you can directly contact the technical support of Torin for assistance.
Pros
Cons

Adjustable height from 5.12 to 40 inches
Load capacity of 6,000 pounds
Multi-directional lifting
Meet ASME B30 standards

Quite hard to release the mechanism
Load capacity: 7,000lb
Size: 48 inches
Check Latest Price
In farm jack production, all-cast jacks are the most expensive but powerful ones. All components of a best-rated all-cast jack like Hi-Lift HL485 are made of high-class cast iron. Hence, it can handle all heavy-lifting tasks with a rated load capacity of 4,660 pounds and a tested load capacity of 7,000 pounds.
For your safety, Hi-Lift HL485, Hi-Lift XT485, and all farm jacks of this 100-year-old mechanical brand come with a shear bolt to prevent the jack from lifting any object greater than 7,000 pounds.
Due to its high weight capacity, you can use this high lift farm jack to fix your Jeep. So, which Hi-Lift jack sizes do you need for your Jeep?
It depends on how high you decide to lift. For example, if you often do 2-3-inch lifts on your Jeep, you can use this 48-inch jack. If you get bigger tires or do higher lifts for repairing, you should pick up a jack with a height of 60 inches.
Pros
Cons

All-cast construction for extreme performance and durability
Lift range from 5 ¼ to 34 ½ inches
Can be used to lift Jeeps
Load capacity: 7,000lb
Size: 48 inches
Check Latest Price
Arcan ALFJ48 is an ideal choice when it comes to pulling, spreading, clamping, or lifting farm tractors and other four-wheeled vehicles. This farm jack can lift vehicles with a maximum weight of 3 tons (or 6,600 pounds).
This jack is made from high-grade steel construction with powder-coating for supreme performance and durability in all kinds of weather. It has a lifting arm to adjust the height from 4.9 inches to 40.1 inches.
Its ratcheting mechanism helps you lock the jack in a predefined height with no slipping.
There are some minor drawbacks to this farm jack. First, the lock slips quickly, so you will have to waste more time to keep it at the right height. Second, the base might be slippery, especially if you're working on dirt or a muddy surface.
Pros
Cons

Steel construction
Anti-rust powder coating
Anti-slip ratcheting design

The lock often slips
Slippery base when working on wet surfaces
Specs: 
Load capacity: 7,000lb
Size: 48 inches
Check Latest Price
While hydraulic jacks are easy to use and space-saving, they have some disadvantages. First, they can overheat quickly or lift objects slowly. Second, the hydraulic oil in jacks can cause water and soil pollution.
A hydraulic-free farm jack with full lever operation like Vestil HDFJ-48 is a heavy-duty choice that requires less maintenance than hydraulic ones.
This farm jack has a massive load capacity of 7,000 pounds and is made of cast iron. Hence, you can use it for lifting tractors, four-wheeled drive vehicles, and tensioning wire fences on your farm.
You can also use it to remove heavy objects like bulky old tree stumps, posts, poles on your property. It has a reinforced lift arm that boosts its strength, torsion control, chassis, and durability.
This Vestil farm jack has a height of 48.25 inches and can lift objects to a maximum height of 43.5 inches.
Pros
Cons

Sturdy cast-iron construction
Massive load capacity of 7,000 pounds
Specs:
Load capacity: 6,000lb
Size: 60 inches
Check Latest Price
If your vehicle has big tires or needs to lift objects higher, this Big Red farm jack with a maximum load capacity of 60 inches won't disappoint you. It can lift heavy objects of 6,000 pounds from 5.12 inches to 51.77 inches with little effort.
Depending on your work requirements, you can choose to do it horizontally or vertically.
Unlike cheap jacks with a small slippery base, this utility farm jack has a broad base to stand stably even on rainy days or muddy terrains. Therefore, it can act as your handy life-saving tool for off-road riding on rough terrains.
Not only heavy-duty, but this farm jack also meets the ASME.B30.1 safety standards for protecting users from possible injuries. The rubberized grip on the handle helps you control your lifting force easily and comfortably.
Additionally, its fast-lifting mechanism ensures a safe and quick lifting result.
Pros
Cons

Horizontal/vertical lifting options
6000lb load capacity
Broad base for added stability
Meet ASME.B30.1 safety standards

Not as heavy-duty as advertised
Slightly pricey
How To Choose The Best Farm Jack?
Materials
The material of a farm jack directly affects its lifespan and strength.
In other words, a farm jack made of high-quality materials can be sturdy enough to handle all challenging tasks in all conditions. And it can sustain the hard lifting pressure for an extended period.
Cast materials like cast iron, cast silver, or high-grade steel are the best choice of material for your jack. These solid materials can help you lift or haul heavy farm machinery with ease. On the other hand, jacks made from cheap materials that are molded together or those that consist of separate welded parts are easy to bend or break with time.
Lift capacity
The lift capacity of a jack indicates the maximum weight it can sustain at a time. A jack with a higher lift capacity will perform better on various kinds of jobs.
To know the required lift capacity, you should estimate the weight of the tractor, the implements, farm machinery, farm vehicles, and equipment that you will have to lift with the jack. A rule of thumb is that you should choose a jack that can effortlessly handle the heaviest machinery or equipment on your farm.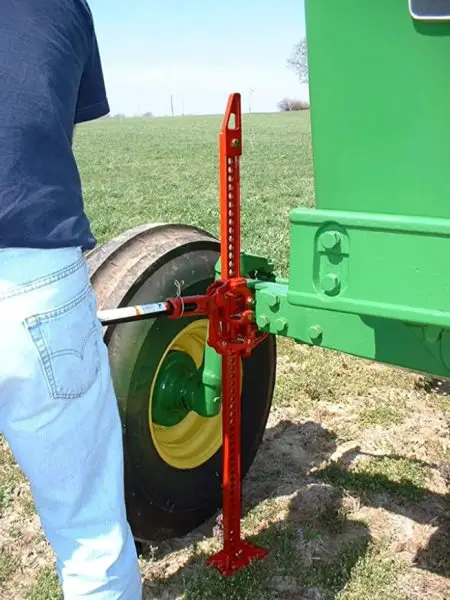 Lifting height & Lifting range
A farm jack has an average length from 48 to 60 inches. Instead of reaching its maximum height, you should know how high you want to lift your heavy loads.
The longer a jack is (or the higher lifting height), the better it can handle situations. But remember that the whole system can lose its stability and strength when being lifted too high.
Like the lifting height, there is no golden number for the lifting range. If you intend to use the jack for any specific purpose that might need a higher lifting range (for example, lift off-road vehicles), you must choose an item with a higher lifting height.
Lifting speed
While the lift capacity affects its strength, its lifting speed determines how fast you can get your job done.
Almost all jacks need approximately 8 to 10 strokes of the lever to reach their entire length. If you have many lifting jobs to get done, you should pick up a model with a higher lifting speed of around 3 to 6 strokes with at least two lifting positions.
Handle
A handle is an integral part of a farm jack. While operating this farm tool, you need to hold the handle to raise or lower your heavy loads. Thus, make sure that your chosen jack has a well-built handle made of sturdy materials.
It's hard to expect a high-quality handle in cheap jacks. These items have a fixed handle made of thin and fragile metal. This handle can get rust soon or even be broken while performing strenuous tasks.
Clevis (or clamp attachment)
A clevis (or a clamp attachment) is a triangle piece or loop located at the top of a jack. This detail is used to mount a chain during pulling or winching.
Instead of purchasing a cheap jack with a thin and fragile loop, you should go for one with a defined spot to securely mount the jack while doing heavy pulling or lifting jobs.
The size of the clevis spot is also worth considering. If it is too small, you can hardly attach a chain with the jack. Besides, choose the clevis spot with a heavy-duty locking mechanism to work like a clamp.
Comfort, safety, and ease of use
While looking for a primary tool for lifting heavy weights like a farm jack, you should make sure that it is comfortable, safe, and easy to use, even when tackling complex jobs. Are there any clues to spot a great jack that meets these three criteria?
Ease of use: Look for a jack that has multi-directional use. It means that you can use it vertically or horizontally for various jobs like pulling, spreading, lifting, winching, or clamping.
Safety: Choose a jack with shea bolts for safer operation. The bolts will collapse when the tool is overloaded to protect it from cracks, bends, or damages.
Comfort: An appropriate jack is one that you can handle quickly and effortlessly. You should choose a jack with the handle move up and down, and stay away from the ones that you have to twist the handle.
Customer reviews
After having some items in mind, you should also check the reviews from people who have bought and used them to have a detailed overview of how, their advantages and disadvantages, and how they perform in different working situations.
While doing this personal research, be wary of sponsored or fake reviews, as they contain a lot of bias and lack truth.
Price
The price tag is still an essential factor you should consider when buying farm machinery and tools. You should predefine the amount of money you can spend to get a farm jack. This number does not only help you pick up the item that fits your requirements but also enables you to avoid overspending.
Yet, don't choose a too cheap jack since it can go out of use after a few months. And you will end up wasting much more money on a new one.
Using Farm Jack To Remove Tree Stumps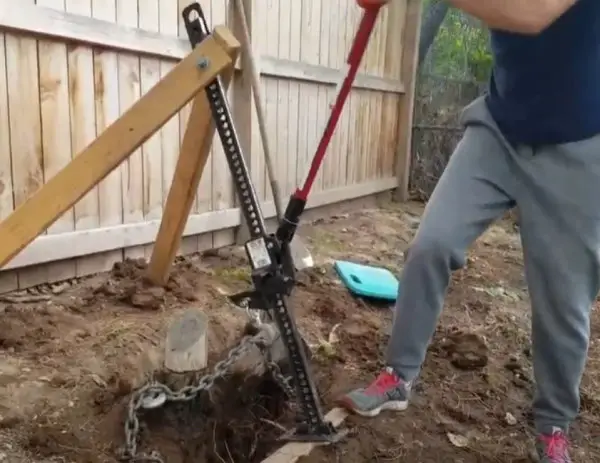 To remove tree stumps with a farm jack:
Don't remove tree stumps too near the ground. Instead, leave a few feet of chest-high.
Ensure that your chain or straps are suitable for the job.
Don't use a 2×4 jack to pull any trees that are larger than your wrist.
When removing tree stumps, always remember to winch instead of pulling them. This is the best way to dig out a stump without bending or damaging your jack.
When using hooks with a chain, make sure that you grab hooks as close to the tree trunk as possible. Otherwise, the chain will slip along the trunk.
Along with the jack, use a saw with a thin and long blade for cutting stubborn tree roots under the ground.
Using Farm Jack On A Jeep
You can use a farm jack to change the broken tire of your Jeep or save it from an obstacle by following these simple steps.
Step 1: Find a spot on your Jeep to attach the farm jack.
Step 2: Measure the height from where the jack would lift the Jeep off the ground.
Step 3: Wind the handle to lift the Jeep to the predefined height.
In addition, there are a few essential notices you should follow when jacking your Jeep with this hand tool:
Take an additional 2 feet or 24 inches of the lifting height when lifting vehicles on off-road terrain. This extra height keeps the jack more stable.
The recommended lifting height for a Jeep is approximately 64 inches.
Read More: How to Change a Tractor Tire Yourself. Changing a tractor tire can be challenging, but we made it easier to manage with this how-to guide and link to an instructional video!
FAQs (Frequently Asked Questions)
1. What's a farm jack used for?
A farm jack is a simple yet versatile tool initially engineered for agricultural applications. It can be used for winching, lifting, pulling, and clamping. Besides, you can use this tool in construction, repairing cars, and other activities.
2. Are farm jacks safe?
High-lift jacks can be dangerous with the risks of causing severe health issues like smashed fingers, concussions, or missing teeth. Thus, you should be cautious and well-prepared when using them. You should also learn how to use them properly.
3. How much weight can a farm jack lift?
A jack can have a rated weight capacity of 4,660 pounds (around 2,114kg) and a tested lift capacity of 7,000 pounds (approximately 3,175kg).
4. Are Hi-Lift jacks made in USA?
All parts of Hi-Lift jacks are manufactured at Hi-Lift factories in Bloomfield, Indiana, USA. In other words, 100% Hi-Lift jacks are made in the USA to maintain their high standards and come with a 12-month warranty from the manufacturer.
5. How long can a farm jack last?
A high-quality jack, with proper maintenance and care, can last for around 10 years. You should follow the manufacturer's guidelines and instructions to use the jack and keep it stay longer safely.
My Top Pick
High lift farm jacks are simple but versatile tools for farming and recovery operations. All the above farm jacks that I have compiled in this article are high quality and receive many positive reviews from previous buyers.
The best farm jack that I have used for more than 5 years is the Hi-Lift XT485. It's a compact but sturdy farm jack that can assist you in fixing whatever farm vehicle you throw at it. However, this jack is easy to rust, so you should store it in a dry place when not in use.