As huge fans of furniture, especially handicraft ones, you are sure to be charmed by those farmhouse tables from solid wood. So, which is the best wood for farmhouse table? How could you find out which one is proper for your home, and what you can do to save your money when investing in one?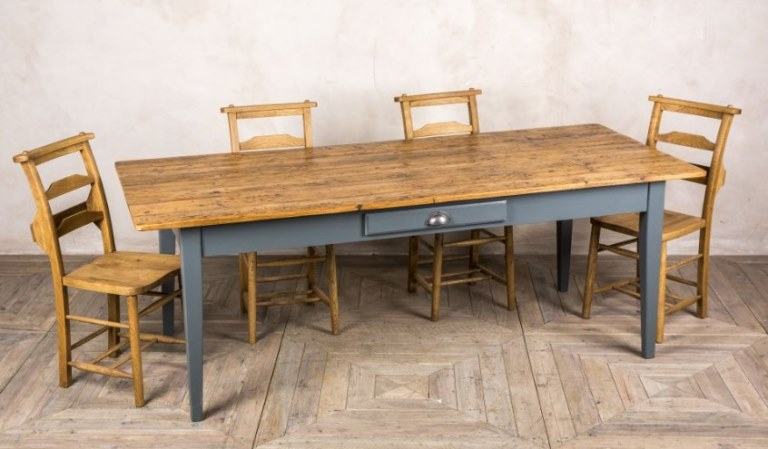 *This post may have affiliate links, which means I may receive commissions if you choose to purchase through links I provide (at no extra cost to you). As an Amazon Associate I earn from qualifying purchases. Please read my disclaimer for additional details.
How to choose wood for farmhouse tables?
In love with farmhouse tables, you will need to find which wood is proper for your purpose and budget. Let's see the 3 factors related to the wood that will help you to make your choice more easily.
1. Durability
Wood durability is the level of hardness measured following the Janka test. It is to check the resistance of a wood sample piece against force or damage.
The level shown on the scale is the durability of the wood. The higher it is, the harder the wood is.
2. Grain
Woodgrain is the texture of wood fibres on a radial surface. To know if the grain is open or closed, you can look at the size of the pores. If they are large, they are considered open and can be easily noticed. Otherwise, the grain is closed.
3. Cost
It is also important to look into the price of farmhouse tables as they are made from solid wood which is original and not through any engineering process. Therefore, those types of wood are more expensive than the ones used for industrial tables.
The cost is also high because of the handicraft process, the wood quality as well as the wood type.
Best wood for farmhouse table
1. Pine
Pine is told to be easily scratched or cracked. The heartwood is not really strong and is likely to decay. The wood colour can vary from white to light brown and is well-known for beautiful knots.
Pros
Low price.
Absorb paints and stains well.
Cons
2. Oak
Oak is one of the most favourite choices of wood for farmhouse tables thanks to its beautiful tight grain pattern. Especially, the natural colour is enhanced with staining. For oak wood, you can have the choice of white or red colour.
Oak is popularly used for different purposes because of its colour and quality.
Pros
Strong and heavy wood.
Proper for long-term and constant use.
Good wear-resistance.
Absorb stains easily.
Medium price.
Cons
Low resistance to insects.
3. Maple
Besides oak, maple is also one of the hardest woods that are recommended for furniture. The colour of maple is sure to lighten a room with its tone and beautiful closed-grain.
For maple, carpenters can flexibly adjust the design to satisfy different types of demands. Maple wood can be hard or soft, and the price is also different.
Pros
Can have the choice of soft or hard type for different purposes
Moisture-resistant
Greatly durable.
Reasonable price.
Eco-friendly and sustainable wood.
Cons
Likely to decay quickly.
Low resistance to insect attack.
Soft maple is not proper for heavy items.
4. Cherry

With the natural dark and red-tinged colour, a cherry farmhouse table is also an ideal choice. The special feature of cherry wood is that its colour tone is darker and deeper over time, bringing about a beautiful effect of the wood table. People usually choose this wood because it brings elegance and formality to their home look.
Pros
Smooth texture and beautiful wavelike grain pattern.
The grain darkens if exposed to light and heat.
Colour tone proper for a farmhouse look.
Reasonable price.
Cons
Softwood, but harder than pine.
Not proper for heavy items.
5. Walnut
Walnut is famous for its high durability. The wood colour is golden to grey tones, proper for those following the modern and elegant style. The grain pattern especially can conceal some minor wear or scratches.
Pros
Strong wood.
High decay resistance.
Beautiful straight and open grain.
Grain patterns can hide the flaws of the wood texture.
Cons
Very expensive because walnut is a slow grower.
Light dents after years.
Can have insect problems.
6. Hickory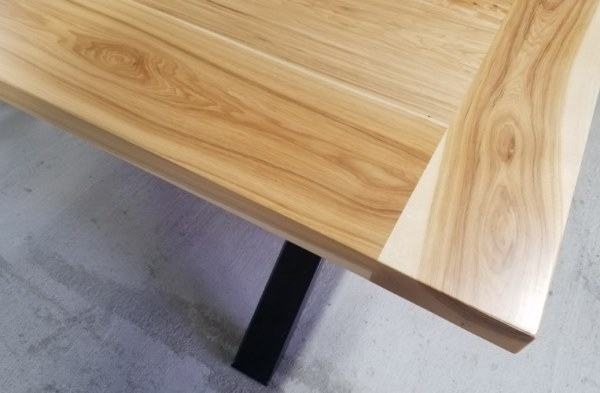 Hickory is one of the hardest and the best wood for the farmhouse table. The durability is exceptional, meaning a hickory table can be used for decades. The grain pattern of hickory is magnificent, totally proper for your dining room or kitchen.
Thanks to its small individual bands in the grain, it can be paired easily with other furniture in your home.
Pros
Strongest wood type.
High resistance to dents and damage.
Durable and hardwood.
Cons
More expensive than other types of wood because of its density.
Prone to warping and cracking in case of humidity.
7. Cypress

Cypress wood one of the durable wood types with straight grain and medium texture. Wood from young trees is not as good as from the older ones. Cypress has been a popular choice in not only interior but also exterior construction. That's why it's also a common option for farmhouse tables.
Pros
High resistance to decay.
Hard wood.
Medium price.
Cons
Can have a specific odour while processed.
Can farmhouse tables use mix wood types?
In love with unique and creative furniture, you might have those ideas of mixing wood types or creating a table in various tones of colours.
One of the benefits is that you can save your money by using the more expensive wood for a table's top and the medium or cheaper one for a table's base.
What should be considered carefully is the tone of colour to create the match because each wood type has its own natural colour. Even if the wood is stained, make sure that it can absorb the colour well.
The colour style for farmhouse tables
Based on your home's main colour tone, you can choose the proper and matching colour of the table with your home. If you are unsure about how to "play" with the colours, let's go to Google and Pinterest for some reference.
Photo: Little Wooden Penguin
Your table can have:
Only one colour.
White base with stained top.
Black base with stained top.
Painted completely in an optional colour.
Before making the final decision, asking a specialist or somebody you trust for advice is a good idea too. As dark blue is the primary colour of my home, I would love my farmhouse table to have a white base with a blue stained top, which brings the elegance and the light to my living area.
One tip that you need to bear in your mind is that it would be easier to darken rather than lighten the colour of the table. So, a test on a wood piece is recommended before you put the stain all over on the table.
Conclusion
In conclusion, I would wish you the best luck on choosing the wood type for your table. Don't forget the 3 primary factors related to the choice of the best wood for farmhouse table. Also, make your style by adding some colours is a great idea, too. Make it unique in your own way.