Winter is coming, and you haven't found a way to keep your chickens and birds stay hydrated in cold weather? I got the best heated chicken waterer here for you.
This auto-poultry waterer will provide fresh, clean access to water and keep the water from freezing with little of your effort. Once your chickens get enough water, they will get a much better life and get through harsh, cold winter without any serious health problems.
*This post may have affiliate links, which means I may receive commissions if you choose to purchase through links I provide (at no extra cost to you). As an Amazon Associate I earn from qualifying purchases. Please read my disclaimer for additional details.
Top 6 Best Heated Chicken Waterers 2022
In-depth 6 Top Rated Heated Chicken Waterer Reviews
I don't include any battery-operated heated chicken waterer on this list. It might sound great, but it isn't practical.
Its battery can be eaten up quickly,  which costs you a lot of money and effort for maintenance. And in case the machine is out of energy when you are not there, your chickens might lack drinking water.
Therefore, I only list down electric-powered waterers for your convenient use.
Check Latest Price
Farm Innovators HB-60P has all the essential features of the best heated chicken waterer, including high quality, ease of use, durability, and convenience. This hanging heated chicken waterer contains a maximum water capacity of 2 gallons, which is enough for a coop of 10 chickens for a week.
This chicken nipple waterer is highly recommended for its ability to feed many chickens at a time all year long. It features 3 freeze-free nipples at the sides of the bottle, accommodating up to 15 chickens.
The nipple design also prevents hens from soiling water, thus saving your time and water. It comes with a 60-watt heater to maintain a warm and fresh water flow at freezing conditions.
A common problem regarding plastic poultry waterers is durability. This waterer from Farm Innovators is made of high-quality plastic with thick walls that can last for years with no leakage or cracks. You can hang this drinker for easier access, thanks to its strong hanger.
Pros
Cons

Contain a maximum of 2 gallons of water
60-watt heater to automatically adjust the water temperature
Made of high-quality plastic with thick walls

Nipples are hard to use for 1-day-old chicks
Check Latest Price
Premier 1 is a versatile insulated chicken water supplier that prevents roosting birds all year long. This waterer can contain 3 gallons of water for up to 35 adult birds or home chickens.
The chicken waterer offers a great lid design. Its conical lid allows you to securely lock the bucket, keeping water always warm and uncontaminated.
When the outside temperature drops down below 40oF, the built-in thermostat will turn on to heat the water, and it will automatically turn off at 60oF.
In warmer months, you can remove the detachable grounded electrical cord for convenient use. The cord is quite long (16 feet in length), so you don't need to use extension cords.
Pros
Cons

Large capacity (3 gallons of water for up to 35 adult birds)
Conical lid for secure locking
16-feet detachable electrical cord
Electricity-saving thermostat
Check Latest Price
On a farm of both adult and small chickens, you should pick up a waterer that all of them can easily access. This Farm Innovators heated chicken waterer is an affordable, all-season device to keep your poultry stay hydrated and warm.
This chicken waterer can contain 3 gallons of water, much more than the above Premier 1. Its round base design helps serve more chicken counts at a time than the metal nipple design in Farm Innovators HP-60P and Premier 1.
There is a 100-watt heater in the base to keep water ice-free when the temperature is below 15oF.
Not only great at large water capacity, but Farm Innovators HPF-100 PVC waterer is also highly rated for its flexibility in water refilling. You can fill in new water from the bottom without removing the top. You can pour water into this tank using a hose, a 2-liter bottle, or a water jug.
You can hang this bucket to save more space for small coops or put it on a flat surface for easy water access for small chicks.
Pros
Cons

Affordable
Round base design to serve a large number of chickens at a time
Refill water without removing the top

Short electric cord (2 feet)
Chicken can roost on the tank
Check Latest Price
OverEZ Automatic Water Feeder is the #1 choice in commercial poultry coops for its capacity and efficiency. This large heated chicken waterer can hold up to 12 gallons of water for a large number of chickens in a month with no maintenance or refill effort.
Its fully-sealed design keeps water insulated and fresh to maintain good health for your chickens. There are 3 nipples to allow 3 chickens to use at a time.
The water tank is made of UV-protected, BPA-free, recyclable plastic for an extended lifetime. Depending on your farm design and current weather conditions, you can install this heated poultry watering system indoors or outdoors.
In colder months, you can prevent water from freezing with accessories like deicers and circulation pumps. You can connect accessories with the tank with the power cord access port on the top lid. Please notice that these insulation accessories are not included in the product package.
There are two problems regarding this commercial chicken waterer.
First, the access port can act as a gate for bugs and insects to come in and contaminate the water source. Hence, you should block this hole with foam or soft cloth.
Second, when there is only ¼ water left in the tank, the water flow rate is slower, making chickens struggle to get enough water intake.
Pros
Cons

Can be used indoors and outdoors
Largest water capacity (12 gallons)
Weather-resistant, recyclable plastic
Connect with insulation accessories via a power cord access port

The access port can allow bugs and insects to come in
The water flow rate is slower when there is ¼ water in the tank
Check Latest Price
This small waterer from Farm Innovators can contain 1 ½ gallons of water and has the dimensions of 12 x 12 x 4.75 inches, which is sufficient for small and super small home chicken farms. Thanks to its high flexibility design, you can also use this bowl for various pet types like ducks, dogs, or cats,
One of the biggest issues with pet bowls is that chickens can tip over the container and spill water. But since this bowl is quite heavy (2 pounds), they can't shift the container.
This heated plastic waterer seems so simple, but it can do an excellent job of keeping water from freezing even in sub-zero temps. The 60-watt thermostats only operate when necessary, thus saving you a considerable amount of electricity.
The 5-feet electric cord is well-protected from destructive pets that love to chew like dogs.
Pros
Cons

Can be used for various pet and poultry types
Easy to clean and refill
Metal cord protection
1-year warranty

Water can easily get contaminated due to its open design
Check Latest Price
Keeping fresh water available for your flock in cold or harsh weather might be challenging. Many gravity drinkers, chickens often roost at the top and make the water dirty. But K&H Pet Thermo-Poultry Waterer has a no-roost top design that prevents chickens from sitting at the top.
But the most significant part of this waterer is the filter that sits inside the water tray. If you notice large debris and particles inside the water, you can lift the filter and clean it. This filter makes water maintenance easier and reduces refilling costs.
Non-spill refill is now possible with this waterer from K&H Pet. If you need to refill water outside the coop, you can hold the sturdy handle to lift it. There is a little cap inside to prevent water from spilling out.
And when you put the tank back, the cap will be automatically opened. This water can contain a maximum of 2.5 gallons of water.
Pros
Cons

Lightweight; made of durable, rust-free material
No-roost top design
Non-spill refill with a cap inside the tank
Water filter for easy cleaning

Hard to remove ice build-up due to the small tank mouth
Some Alternatives To Heated Chicken Waterers
If you have already had a chicken waterer but not a heated one, you can consider getting the following accessories to keep water from freezing.
Check Latest Price
If you have already bought a plastic or metal waterer, and now you want to heat the water in colder months, this heated base for chicken waterers from Harris Farms will get the job easy.
This heated base features a 125-watt controlled thermostat that automatically adjusts the water temperature in winter. Using this metal base, you can save your budget for purchasing a new heated poultry waterer but still maintain a convenient water intake for your chickens.
Check Latest Price
If you have purchased a chicken nipple waterer, a deicer from API is a useful accessory to keep water ice-free during cold months.
You can mount this accessory to buckets, palls, or containers, thanks to its adjustable clamp. This deicer is completely enclosed, with CSA and UL listed so that your animals can't access it or experience electrical shocks.
Considerations Before Buying A Heated Chicken Waterer
Safety
Safety is the most important criterion you should take into consideration when buying a heated chicken waterer.
You must ensure that these electric-powered appliances can't cause electric shocks to your birds by picking items with a high protective rating.
Besides, they should have safety features like a long electric cord with anti-chewable coverage. The heating element should also be carefully covered so that it can't burn or electrocute your birds.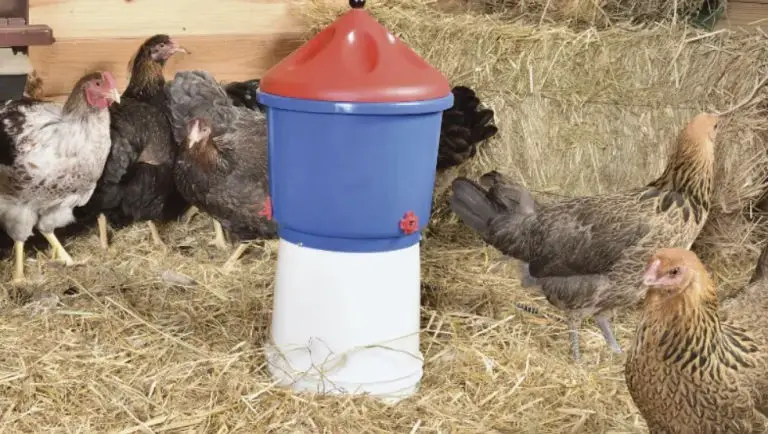 Material
The material of a chicken waterer directly affects its durability and safety. There are two popular materials – plastic and metal.
Plastic: This material is affordable, lightweight, easy to clean, and electric-resistant. However, thin and cheap plastic can get cracks over time, especially in colder climates. Therefore, you should ensure that your plastic chicken waterer is made of thick plastic and contains no BPA (Bisphenol A).
Metal: Metal chicken waterers are much more expensive. Yet, they contain no BPA or harmful substances and are more durable than cheap plastic ones. If you live in a high-moisture area and worry about rusting, choose ones made from galvanized steel. And remember not to use apple cider vinegar as a supplement for your birds in this water container.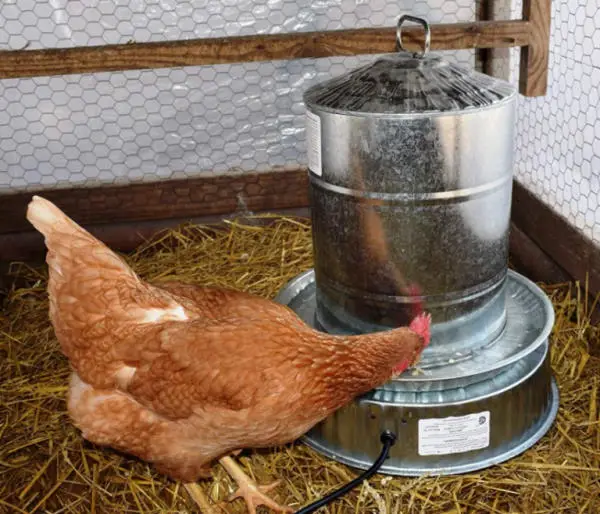 Flock size & Tank capacity
Your flock size (or the number of chickens on your farm) helps you decide their tank capacity.
On average, a chicken needs 16 ounces of water per day, so a one-gallon waterer is sufficient for 8 chicken counts per day.
So, if you only have a small number of birds on your farm, a 3-gallon of waterer with several nipples is appropriate. However, if you have a more extensive chicken farm with lots of chicken counts, you should choose a larger waterer of up to 6 gallons of water with more nipples.
Besides your flock size, several factors affect the tank capacity:
How frequently can you refill their water? A larger tank will require fewer refilling times if you are too busy with home chores or farm work.
The behavior of your flock: The size and type of your chickens also affect how you choose their waterer. First, bigger chickens need a larger waterer to keep them stay well-hydrated all day. Second, hens are often aggressive and might prevent others from accessing their water source. Thus, you should prepare many waterers to ensure that all your bids can easily access water, with the recommended ratio of 1 waterer for 8 to 10 chicken heads.
Read our related article, How Cold Can Baby Chicks Handle? Chicks need hot temperatures to live through the first few weeks. Here are the temperatures that are too cold.
Design
You need to check the design of the chicken waterer.
A gravity waterer: This traditional waterer is affordable and can serve many chickens at a time. However, you have to check or fill them daily, especially on hot summer days.
Nipple waterer: This waterer design keeps water always fresh and clean. However, you should choose the item with many nipples so that all of your birds can have easy access to water at a time.
Construction & Easy of use
Many factors affect the usability of a heated chicken waterer, including the waterer's construction itself, assembly requirements, and ease of access to water.
Construction: Make sure that your chosen waterer is easy to refill and clean up. There should be a removable cover with a wide opening to fill freshwater or to make frequent clean-up.
Assembly: Some products come fully assembled, while others need special tools and supplies to put separate parts together.
Access to water: Some chickens can quickly learn to drink from nipples, but there might be a few of them who prefer drinking from a cup or a trough. You should choose a solution that is easiest for your birds to use.
Budget
Heated chicken waterers are available in various designs, features, and materials. Thus, it is undoubtedly that they also come in many price tags.
You need to define a budget before picking up an item for your birds. Ask yourself whether you can afford expensive options as a permanent choice for your large-sized farm, or you only have a limited budget for a small plastic waterer.
Read our related article, How to Keep Chickens Warm in Winter WITHOUT Electricity. No electricity to your coop? No problem! Check out these tips.
Safety Tips When Using Heated Chicken Waterers
To prevent injuries or death to your chickens, you should follow the following safety tips when using an electrical appliance like a heated chicken waterer.
Place the drinker according to the chickens' age
The waterer's placement depends on the age of your chickens:
For old hens: Place the drinker in a dry area outside their coop and cover it to keep it free of dirt and debris.
For chicks: Add side-mounted nipples to their drinker so that they can reach the water with ease.
You can consider getting a waterer with heated nipples since it can prevent hatchlings from reaching the nipples. Plus, it also keeps the water from getting scaled.
The electric cord must be waterproof & pet-resistant
The waterer's electric cord must be weatherproof to withstand harsh weather elements. Additionally, it should have a tough, pest-resistant covering to keep it safe from snow, frost, moisture, or rodents (like rats, chipmunks, or squirrels).
FAQs (Frequently Asked Questions)
1. Do you need a heated waterer for chickens?
A heated waterer keeps water edible and prevents freezing on cold winter days. When your chickens have access to warm water, they can always stay well-hydrated, alive, and healthy. Thus, this appliance is highly advisable for all chicken farms of all sizes.
2. Can baby chicks use a heated waterer?
Baby chicks can use a heated waterer, provided that you train them how to use it. Hold and guide them to the water nipples so that they can get water from the nipples.
You should also watch them for a while to make sure that they have learned how to drink from the waterer.
3. Are heated chicken waterers safe?
Almost all heated chicken waterers are safe for your poultry. Still, you have to check their temperature and their output electricity. You should check their user manual to make sure that your favorite item comes with safety features.
4. How do you keep chicken water clean?
You should change water for your chicken daily and carefully sanitize their waterer at least once per week. On hot summer days, you should refill new water more than once to prevent the growth of mold and harmful bacteria.
You can use apple cider vinegar/liquid bleach, water, and a scrub brush to sanitize plastic waterers. If their waterer is made of metal like double-coated galvanized steel, you can use hot or warm water, a soft sponge, and mild dish soap to clean it thoroughly.
My Top Pick
Keeping an easy, clean, and fresh water access for your chicken in winter is possible if you have the best heated chicken waterer in your coop. Farm Innovators HB-60P is an ideal choice for farmers. This water system contains all essential features to keep water insulated with little maintenance effort and cost.
Solar heated waterer seems to save your electricity bills, but it will cost you a lot more for the first-time assembly unless you have had a solar system at home.
For heated chicken waterer without electricity, I have never experienced this type of water system. But I will share some DIY ways to make alternatives to electric-powered waterers in the upcoming articles. Stay tuned!