If you are looking for a gadget that can assist you in taking off the poultry feathers, you are in the right place. With the best chicken plucker, a "supermachine", chicken plucking is no longer a nightmare.
A chicken plucking machine is designed with special fingers enabling it to be speedier and more time-efficient with high productivity. That's why many businessmen and farmers have invested these machines for their farms or ranches.
Below are 5 best-rated chicken pluckers on the market. Hope you can find one that is most perfect for your farm!
*This post may have affiliate links, which means I may receive commissions if you choose to purchase through links I provide (at no extra cost to you). As an Amazon Associate I earn from qualifying purchases. Please read my disclaimer for additional details.
Top 5 Best Chicken Pluckers 2022
5 Top-rated Chicken Pluckers Reviews
Check Latest Price on Amazon.com
The first on the list is Yardbird 21833 with the motor of 1.5 HP. Thanks to the roomy 20" diameter drum, it can handle almost any type of poultries, from chickens, ducks to geese or other birds in 15-30 seconds. It can work for up to 3 chickens ( of course depends on the poultry size) at a time with no problem.
Also, with 110 flexible rubber fingers, it can remove the feathers easily and smoothly without damaging the meat or removing the skin. It is more convenient that the machine's got an irrigation ring to flush the feathers out, so it's super easy to clean.
By the way, the machine ensures your safety with a switch detecting any excessive electrical current while used.
What I like
Easy to clean
Easy to move
Have switch detecting for excessive electrical current
Can be used for most types of poultries
What I don't like
The electrical box seal might be worn down due to the continued use of water
Only for bigger birds, not suitable for quails
Check Latest Price on Amazon.com
This is another chicken plucking machine with outstanding features. With a 1HP motor and 92 soft fingers, the Kitchener plucker is able to process 3-4 birds in around 2 minutes, depending on the size of the poultry. It is thus highly recommended for farms and food processing facilities where a lot of chickens are produced every day.
Additionally, it is simple to operate as you just need to carefully follow the instructions provided. There is also a GFCI switch along with waterproof electrical housing for your safety.
What I like
Can be moved around easily thanks to the 2 wheels on 2 legs.
The compact size makes it efficient to store.
The stainless steel material is rust protection.
Cleaning is safe as the motor is made of waterproof material.
Can be used for small birds like quails.
Create low noise
Can disassembly for easy cleaning
What I don't like
Quite heavy ( 64 lbs – 30 kg).
A lot of feathers might get stuck between the fingers and the metal.
Check Latest Price on Amazon.com
Compared to the 2 previous machines, this is an attachment which requires a standard drill (minimum 650 watts) for operation. There are 24 fingers made from natural caoutchouc, attached to a tin body which is safe for food processing.
It takes around 30-60 seconds to finish a chicken. You will need to fasten a drill on a tale, or any other platforms that are flat in case you work alone; or else, you can hold the chicken, while your colleague uses the plucker.
What I like:
Can be used for large birds like pheasants or turkeys
Easy to use if you're a newbie. No skills required.
Convenient to carry anywhere thanks to the lightweight (2.99 lbs – 1.35 kg).
Can be cleaned easily.
What I don't like:
Feathers are everywhere after you finish.
Have to work with the bird like adjusting the angle and pressure to get its best performance
Can only defeather one by one bird at a time
Check Latest Price on Amazon.com
Similar to Josas Chicken Plucker, another worth-buying plucker drill attachment is from Plucker Ukraine, also requiring a drill to operate.
The outstanding point of this product is that it's got 2 types of elastic plucker fingers, ball-shaped for fluff and ring-shaped for large feathers. Hence, poultry will be left with nothing on the skin after plucking.
In addition, the body is made of solid stainless steel with secure fastening in the drill, ensuring the safety of users. A manual is also packed with the product for proper instruction.
What I like:
2 types of fingers for totally removing fluff and large feathers
Stainless steel body
The more practice, the more time you save
White rubber fingers increase softness and elasticity
Easy to clean
What I don't like:
Require strength to hold the gadget for a long time
Require practice to use the plucker perfectly
Check Latest Price on Amazon.com
The name, SuperHandy, tells it all about how the gadget functions. With a simple design, and 21 soft fingers, the SuperHandy plucker drill attachment is sure to be one of the best rated. Depending on the size and the type of poultry, the processing time may vary.  Below is the scalding temperature for each poultry with the amount of time required for processing.
Chicken – 60-650C – 70-90 seconds
Turkey – 51-540C – 80-95 seconds
Duck – 63-660C – 160-180 seconds
Goose – 70-720C – 120-130 seconds
It's not difficult to follow the instructions as the manual is attached in the package.
What I like:
Only take around 1-2 minutes to process a chicken.
Can be used for other poultry such as turkeys, ducks, geese or dove.
Easy and convenient to use.
Light and handy.
Stainless steel body.
Clean and shiny look.
What I don't like:
Require a drill to be fastened on a base for balance as well as safety
Inconvenient if there are a large number of chickens
Require endurance to hold the plucker
The feather might fly everywhere
What to consider when buying a chicken plucker
As your budget will decrease after buying a plucking machine, you might have to consider this investment a bit careful so that not to regret it later. Below are 8 factors that you can think about before giving a decision.
1. The size
The size of the chicken plucker is important as it affects your workload and time. You can base on the following factors to choose the plucker size:
The number of poultry you have to pluck: some models allow you to work with more than 1 bird at a time, which helps reduce your workload.
The kind of poultry: whether you want to defeather small or larger birds.
The speed of the plucker: the faster the machine works, the more time you save.
Although all 3 factors contribute to the final plucker size to buy, many people basically based solely on the first one that is the number of poultry to be plucked in a day. Below is a "number guideline" provided just to help you be easier in selecting a suitable plucker size.
If you have to pluck:
50 birds at a time, choose a 23" chicken plucker.
less than 200 chickens at a time, or 75 – 100 turkeys a year, choose a 27" plucker.
more than 200 chickens at a time, or more than 100 turkeys a year, choose a 35" plucker.
Normally, chicken pluckers are designed to be able to work with most species of poultry such as chicken, duck, geese, etc except for the quails and turkeys.
If you intend to pluck turkeys as well, you should take a no-smaller-than-27" chicken plucking machine. Meanwhile, if you want to process quails, it's better to take a plucker with fingers spaced closer together (to prevent the quail from falling through the machine).
2. Portability
Portability is not really an essential factor to be considered but in some cases, it might bring huge benefits for your farm. It's all up to your farm arrangement.
If your farm has lots of partition for various types of livestock and poultry, you might need to move your machine from a place to another place. In this case, portability is an advantage.
If you don't mind taking the poultry and plucking at a certain place, then portability is no longer not a concern.
3. Price
What is better than a high-quality chicken plucker that comes in friendly-budget?
Well, all the products above are both high-quality and competitively priced. All are the best-rated chicken pluckers on the market with lots of positive feedback from customers. So, don't worry about its quality, make your decision according to your own requirements.
4. Power
Amongst those factors, power is the most important one. Plucking poultry is not a simple and smooth process at all, as it involves uneven weight and unbalanced force distributions. If a motor is not strong enough, it might be broken easily.
Therefore, a powerful motor can ensure that the machine will maintain its high-performance level for longer use. The power of a motor can also influence the speed of the defeathering process, but is not the primary factor. The main factor affecting the speed is how many fingers that machine has.
5. Number of fingers
The number of fingers will determine how effectively and quickly that a chicken plucker can perform. A rule is a machine with more fingers will be able to pluck the bird more quickly.
And, the stiffness of those fingers affects the effectiveness of defeathering as well. Fingers should be stiff enough to provide resistance to keep the birds from falling, however too stiff can bruise the meat.
Basically, plucking fingers are made of rubber which provides softness and elasticity to prevent tearing the skin and damaging the meat.
6. Tub
This consideration is for those who want a tub chicken plucker. In terms of this feature, people often examine the maximum capacity and the quality of the feathers plucked. But you should remember that if many birds are plucked at a time in the tub, it increases the chance of bruising meat.
Usually, a larger tub has more plucking fingers, as a result, the defeathering process will take a shorter time. This is one of the advantages of tub plucker.
However, it might not be easy to clean the tub (especially for the machine without a built-in irrigation system). It is recommended to choose a tub that is made of aluminum, stainless steel, or other rust and corrosion-resistant materials whether there is an inner irrigation system or not.
7. Irrigation
As mentioned above, an irrigation system helps you clean the tub plucker with ease and might make the plucking process a bit easier.
Indeed, when you pluck a chicken, the removed feathers will be everywhere and still be in the tub if there is no irrigation system. If more moved feathers are continuously added, it can cause stuck. Hence, an irrigation system somehow contributes to lengthening the plucker's lifespan.
So, if you buy a machine without this system, to prevent the feathers from bogging down the motor, you have to clean off the plucking fingers before putting another chicken in. Though it is not so difficult, it will take you a long process to finish all your poultry.
8. Durability
Durability is also an important factor to think about. A chicken plucking machine made of rust and corrosion-resistant materials will be better. Normally, stainless steel is fine, but the 304 stainless steel is even better. These materials definitely assure a long life for your machine.
Types of chicken plucker
There are 2 types of chicken plucking machine: tub plucker and tabletop plucker. Each of them has its own benefits and disadvantages that take you into consideration before buying.
1. Tub pluckers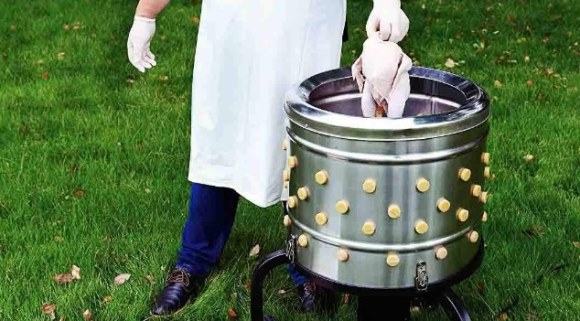 This type is ideal for plucking lots of poultries. As told in its name "tub", it comes with a large bucket with rubber fingers inside. According to the size of poultry and the tub, one to three birds can be put in the bucket at a time. Then, a machine under the tub rumbles and tumbles it causing the fingers to de-feather the birds.
Some models have an in-built irrigation ring so that it allows you to easily hose water into the tub. The feathers, hence, are kept wet which is easier to pluck out the fluff and large feathers. This irrigation system also helps you clean the plucker with ease.
2. Tabletop pluckers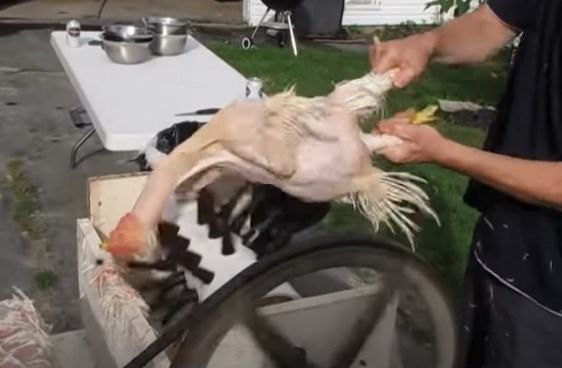 The other type is the tabletop plucker which is much smaller in size and, hence, more portable. Some come only with a drill attachment, while some have a drum with fingers attached to it. You can easily put it on the table or countertop (that's why it has the name) and the drum is attached to a cordless drill.
Using this type, you have to hold the bird and place it against the rubber fingers. As the drill rotates, the fingers act like the pulling action and remove the feathers. To boost the de-feathering process, you should fix the device into a vise to have a better grip.
In these 2 types of chicken pluckers, the fingers are made of good rubber. The surface designs have different structures: ribbed, slotted, or dotted. This variation benefits in removing various types of feathers: fluff, small or large feathers.
What else is needed when plucking chickens?
1. Killing cone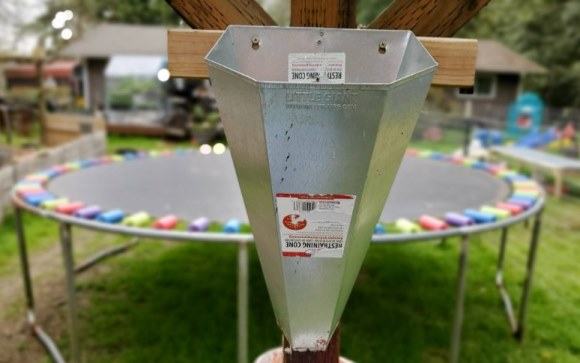 This is an accessory that you have to use before using a chicken plucker. A bird bleeds out through this killing cone. Basically, it contains a medium to a large cone with an open hole at the bottom.
Through the hole, the chicken's head is pulled downwards and out while its 2 legs are tied. Then, either the head or the neck of the chicken is cut off under the killing cone to allow the blood to run out.
After that, the bled-out chicken will be plucked through a plucking machine or by hand-plucking.
Check the Best Killing Cone Chicken on Amazon.com
2. Other things
For hygiene when plucking poultry, you also need gloves, aprons, and maybe old clothes as the bird's blood might splash and stick into your outfit.
Moreover, you also need a good sharp knife (to cut off the bird's feet and head), and a bucket of hot water (for scalding the birds prior to plucking).
FAQs
1. Who invented the chicken plucker?
Andrew J. Toti (1915 – 2005) invented the automated chicken plucker. He grew up in an agricultural Central Valley, California. When he was young, he had to help his parent's hand-pluck chickens and ducks, which encouraged him to make a machine that could handle this workload.
Toti is recognized as a world-renowned American inventor.
2. Can you use a chicken plucker for quail?
Yes, you definitely can, but not for all chicken pluckers. Quails are small birds, hence you should get a plucker with more fingers in order to prevent quails from falling. There are machines in the list above which can defeather small birds like quails.
3. How does it take to pluck a chicken by hand and by a plucker?
You can't just catch a chicken, kill it, and take off its feathers. You need to scald the chicken with hot water from 30 seconds to 2 minutes. Then, you pull wing feathers to check if the chicken is ready to be plucked.
Conclusion
Weighing the pros and cons of those pluckers above, the best chicken plucker to me is Yardbird 21833 as it features strong power with special strengths that the others don't have. You can imagine the speed and the production that this machine may have. To choose a proper plucker for your purpose, you will have to consider a lot of factors which are your budget, the time-efficiency, the reliability and the productivity as well.
I hope this article could give you an overview of the best chicken plucking machine on the market at the moment, so you may make your choice more easily.
Good luck with your business!