Are you a shopaholic for cute cow print items or are you finding the best gifts for cow lovers or cattle farmers? Let's check all 20+ unique & funny gift ideas below, we make sure you will choose a gift that is nothing can be better.
*This post may have affiliate links, which means I may receive commissions if you choose to purchase through links I provide (at no extra cost to you). As an Amazon Associate I earn from qualifying purchases. Please read my disclaimer for additional details.
20+ Best Gifts for Cow Lovers & Cattle Farmers 2022
1. Cow Bedding Sets
Print Bedding sets are the hot trend gift ideas in recent years. So with a cow lover, I think you should have one!
With many cute images, shapes of cows printed on bedding sets (including sheet and pillow covers) such as dairy cow, brown cow, Black Angus, Holstein cow, cartoon cow or cows in the field, cows with dairy farmers… you will have many unique choices for a cute gift!
Check now 50+ Bedding Set for Cow Lovers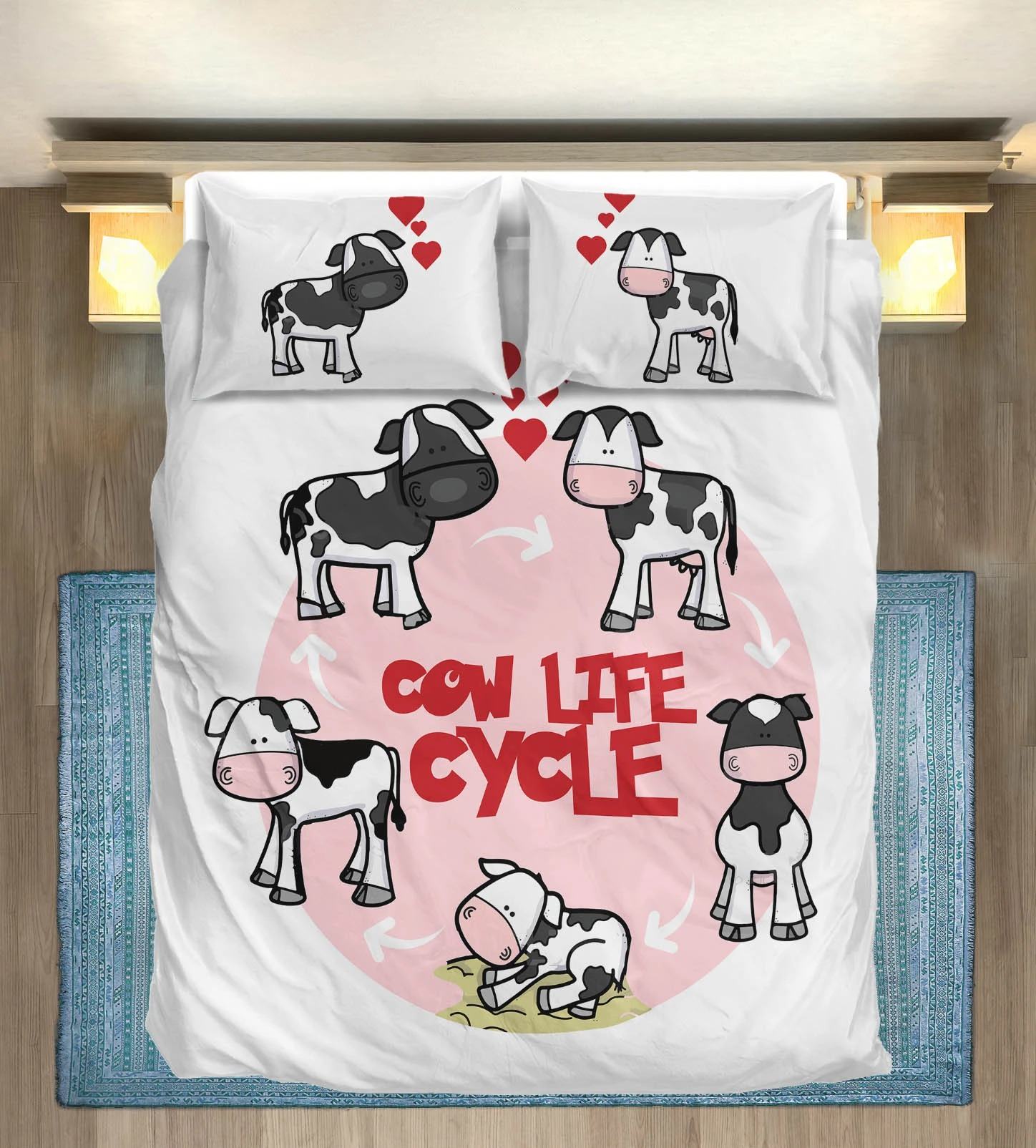 2. Cow Print Socks
These socks are cool gifts for a dairy farmer's wife or a cow lady! If they are real Cow lovers, they have at least a pair of cow-printed shoes. So these cow-printed socks are perfect matching!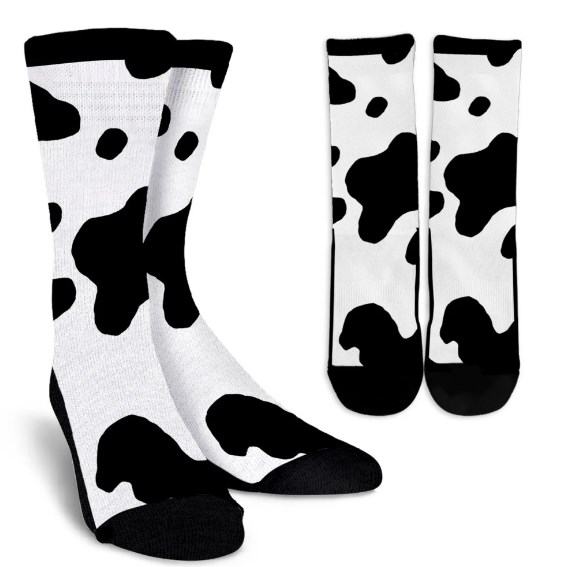 3. Raising Cow Books
Dairy farming is not simple so dairy farmers always want to update new knowledge about cattle farming.
"The Cattle Health Handbook" synthesizes and fully shares common diseases in cows as well as the best way to cure them.

"The Complete Guide for Home-Scale, Holistic Dairy Producers" successfully collects thousands of dairy farming models, from which to draw valuable experiences in the process of raising cows. How to raise cows from birth, farm productivity, or the inspirational stories of successful farms, all are in this book.
4. Udderly Cow Mug
Do you find this cow mug cute? The hand-painted Holstein calfskin motif incorporating 4 udders with silicone grippers underneath are the highlights of this ceramic mug, making it the perfect morning coffee cup for any Cow lover!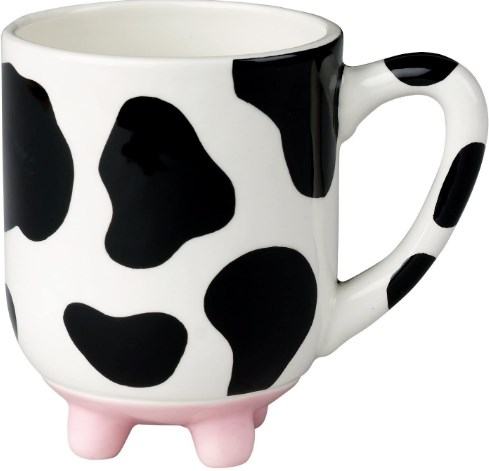 5. Cow Backpack

This is a super cool gift for cow lovers. It is a cute cow print backpack with secured black straps. The product is light in weight and has a large capacity to store items.
This gift will be perfect to be used at school, for camping, on a picnic, or just a casual trip around the town.
6. Cow Stuffed Animal Plush Toy
A stuffed cow key chain dangling from the cabin while a dairy farmer is driving a tractor or a stuffed cow pillow in the center of the sofa is sure to excite any cow lovers.
7. Drinking Cow Wine Bottle Holder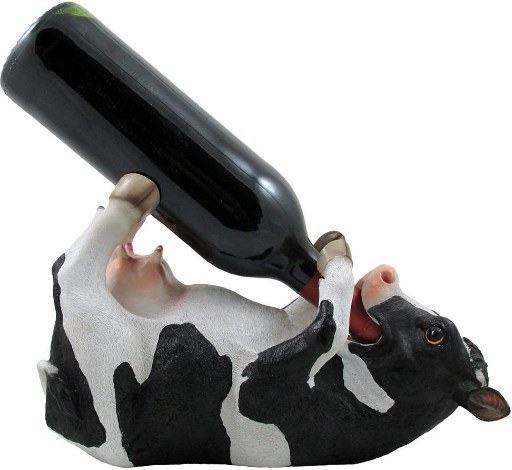 Surely this is an extremely suitable gift for those who love dairy cows and enjoy parties with wine. This decoration will be a highlight at every outdoor party table, creating a joyful and exciting atmosphere every time you lift a bottle of wine out of the dairy cow's mouth.
8. Cow Ceramic Flower Planter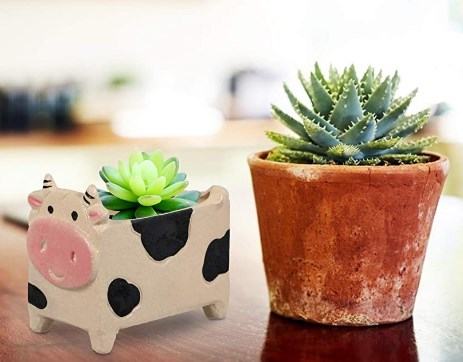 What could be prettier than such a small potted plant, which is cleverly decorated in a farmhouse like this potted plant in the shape of a cow? So wonderful!
9. Cow Hooded Blanket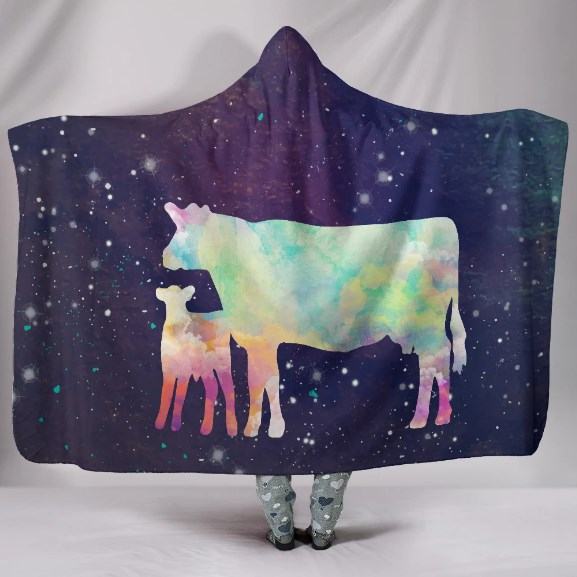 If you are up for something decorative but can be used on a daily basis, how about a cow hooded blanket? It will be such a cool object to add more personality and excitement to one's bedroom.
With this special blanket, your cow lover can almost wear it, get wrapped up in it, and lie down on the couch or turn it into a cool costume.
Check now Collection of Cow Hooded Blanket
10. Cow Slippers
Imagine that your cow lover woke up, opened her eyes, and immediately saw a pair of cow slippers with the shape of her favorite animal? Surely it would be a joy to start her productive working day!
11. Cow Pajamas

Any cow lover must have at least one piece of cow clothes in their closet. It is just a fact. A cow pajama? Why not? These long pajamas with little cows printed all over will make them a perfect birthday gift for cow lovers.
You can also go for 2 pieces of short pajamas. The shirt has one sleeping cow in the middle and the short is in cow pattern. It just looks so comfy and fun to wear around the house.
Onesie cow pajamas are also great gift ideas for people who love cows. These comfy sleepwear items can also be used as cow cosplay for exciting events like Halloween. Can't go wrong, can we?
12. Cow 3D All Over Printed Hoodie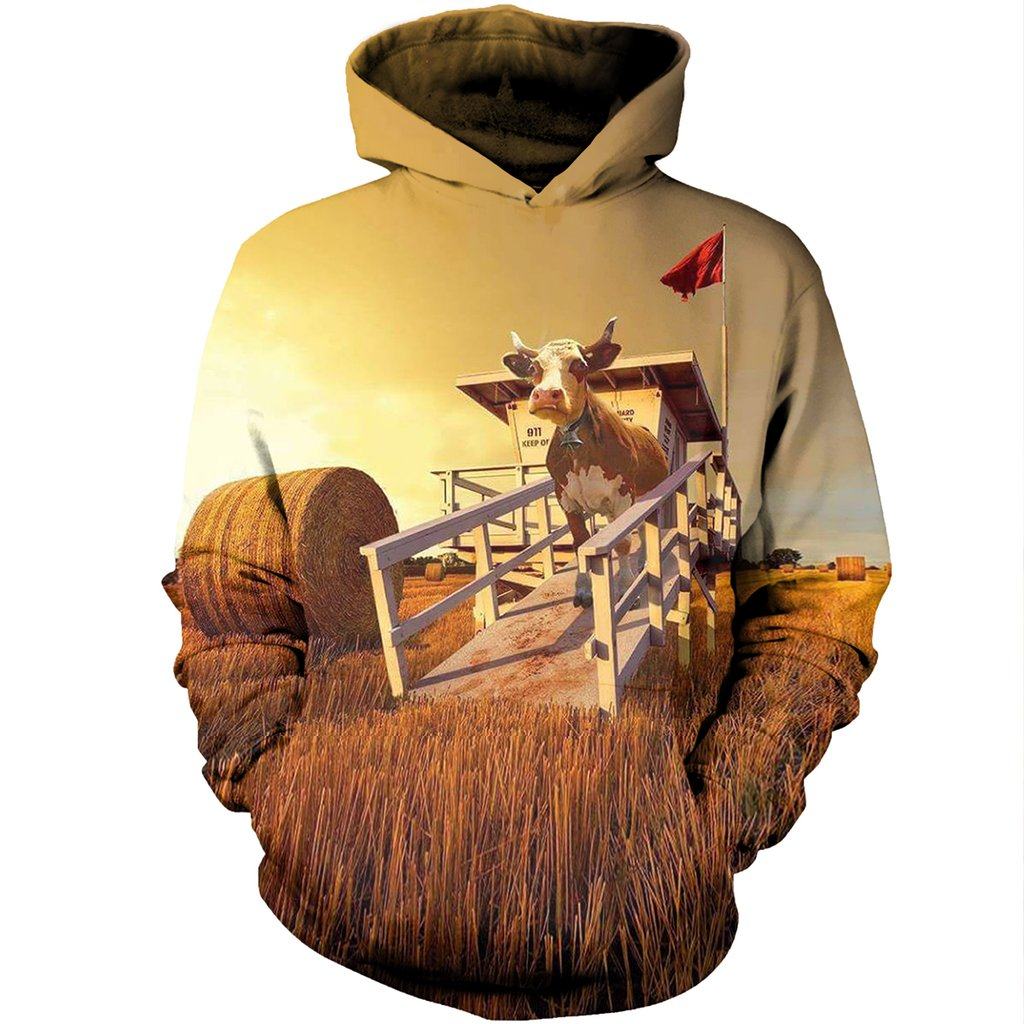 3D printed clothes have become such a trend. Anything you can think of, you can have it on your outfits, thanks to this technique. And it gives us another idea for a cow lover gift, like this cow-printed hoodie.
Such a thoughtful gift for those who are living in cold areas and need a hoodie all the time. Wouldn't it be great if a cow lover has this in their closet?
Check now Collection of Cow 3D Hoodie
13. Cow Mini Tabletop Vacuum

If you would love to send a practical gift, something helpful to be used around the house, try this Cow mini tabletop vacuum.
A tabletop vacuum can help your beloved one clean dust, crumbs, or any small pieces of trash on the table, bookshelves, or any narrow places in the house. But since it isn't a boring-looking vacuum at all, it can be such a brilliant cow lover gift, right?
14. Cow Print Paper Straws
These cow print paper straws are not only a great gift idea for anyone who loves cows, but also for those who are eco-conscious.
Indeed, it isn't a surprise that a person who loves animals also cares for the environment, is it? So why not celebrate both of their great qualities with this simple gift. Cute, practical, and meaningful, do you agree?
15. Cute Cow Keychains
This beaded bangle keychain will be a good choice if you are looking for some kinds of accessories. They have such a cool design with black, white, and cow-printed pearls. What's cool about this keychain is that your cow lover can wear it on her wrist. She can keep her keys with her while adding a nice bracelet. Brilliant!
Another option for a cow-themed keychain. It has an adorable animated cow, a cow printed hand strap, and a small purse, in black and white. This small purse acts as extra storage for more keys or small accessories. A perfect gift to decorate one's backpack!
16. Beautiful Cow Earrings
More cow accessories? Here are a pair of cow earrings with a simple yet elegant design. Especially if the person is a young schoolgirl, who wouldn't love this adorable gift?
17. Cow Tea Kettle
A lovely decoration for the kitchen with this cow tea kettle. It is made of stainless steel with a plastic handle, so nothing to worry about its durability.
The kettle will also whistle when the water is boiled, which seems old-fashioned but matches the theme of a farmer's kitchen. Imagine having someone come over and making them a cup of tea with this cow kettle, we bet they will be so excited!
18. Cow Hanging Tapestry

You can have something artistic with cows. This cow-hanging tapestry is a great example.
It is in black and white, which can suit any modern home decor. The painting itself is printed with waterproof ink on good quality canvas. Unlike many framed pictures, this one can be hung up, taken down, and stored away with so much ease.
19. Cow Car Shade
Have you ever wondered why gifts just make us happy? Because many gifts do turn the normal, day-to-day, not-too-special objects into something exciting. Look at this cow car shade.
No more boring, aluminum car shade. This one functions brilliantly well protecting his/her car from direct sunlight and more importantly, it reminds him/her of something special.
20. Cow Car Seat Cover
A cow car seat cover seems to be a new, interesting idea for your cow lover.
The cover is made to fit a wide range of seats, from those of cars, trucks, vans, RV to SUVs. The product comes with great service to make sure it fits his/her seats as well as how to take care of the cover after use.
21. Holstein Cow Glass Salt and Pepper Shaker Set

If you are finding a gift for someone who loves cows and enjoys collecting farm animal sculptures, nothing is perfect than these cow sculptures salt & pepper shaker set. They are hand-crafted pieces of art that can simply put a smile on his/her face every time going to the kitchen.
22. Funny Cow Aprons

Maybe it's time to replace someone's old apron and get them something more special. This funny cow apron is made of 100% polyester and waterproof material. It is also washable and highly durable. More importantly, it has a huge smiley cow printed on it. Such a great birthday gift for cow lovers!
23. Cow Themed Gift Baskets
Who can love cows more than cattle farmers? Yes, KIDS, for sure. And any cow stuffed animal is just unbearably adorable, isn't it? These cow-themed gift baskets are filled with those cuties and are sure to bring your loved one absolute joy!
24. Cow Storage Baskets

If a person is always obsessed with cow prints, how can he/she not fall in love with this cow storage basket? This square basket with funny cows doodles can be used for multi-purposes, from storing books, documents, toys to the laundry. It is strong enough to carry things around and is washable.
With many funny gift ideas for cow lovers above, we believe you have chosen a favorite gift. If you have interesting items with pictures of cows, please let us know by commenting below!
We will continue to update more unique gifts for cattle lovers in the future. Stay tuned for this article!