What temperature is too hot for chickens?
This is an important question, especially during summer. When temperatures get too hot,
chickens can suffer from heat stress and even die.
In this blog post, we'll explore what temperature is too hot for chickens and some tips for keeping your chickens cool in the summer heat. We'll also discuss some signs of heat stress in chickens and what you can do if you see them.
Let's get started!
*This post may have affiliate links, which means I may receive commissions if you choose to purchase through links I provide (at no extra cost to you). As an Amazon Associate I earn from qualifying purchases. Please read my disclaimer for additional details.
Why Temperature Matters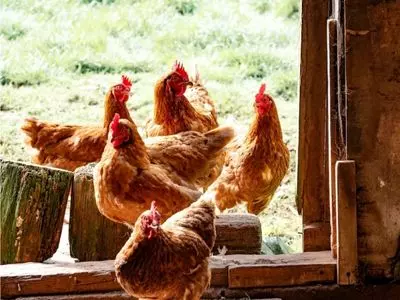 The temperature range that chickens can tolerate varies depending on the age and breed of the chicken. For example,
day-old chicks
can withstand temperatures as high as
95 degrees Fahrenheit
, while
adult chickens
should be kept at temperatures
below 80 – 85 degrees Fahrenheit
. However, some general guidelines apply to all chickens such as
36 hours old or younger
chicks shouldn't be exposed to temperatures
above 105 degrees Fahrenheit.
Adult chickens should be kept out of
direct sunlight
to prevent them from heating. All chickens are susceptible to
heat stress when the temperature exceeds 90 degrees Fahrenheit.
At this point, they may stop eating and drinking, and their egg production may suffer.
As a result, paying attention to the temperature inside your chicken coop, especially during the summer months, is important.
Read More:
How to Keep Chickens Warm in Winter Without Electricity
. We touch on the opposite weather extreme in this guide!
The Ideal Temperature Range for Chickens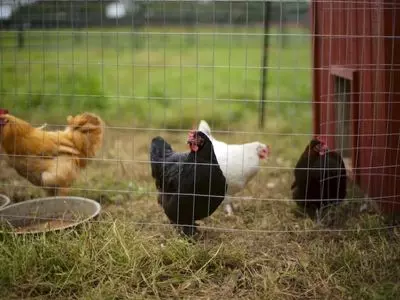 The ideal temperature range for chickens is between
65 and 75 degrees Fahrenheit.
Chickens are most comfortable in this temperature range and will
lay the most eggs
within this temperature range, as well. Although chickens can tolerate extreme temperatures, some temperature ranges are too hot or too cold for them. Temperatures
below 32 degrees Fahrenheit
can cause frostbite, while temperatures
above 95 degrees Fahrenheit can be fatal.
Here is a table to show the appropriate max temperatures for chickens based on their age:
| Chicken Age | Temperature |
| --- | --- |
| Newly Hatched Chicks | 95 Degrees F |
| One Week Old Chicks | 90 Degrees F |
| Two Week Old Chicks | 85 Degrees F |
| 6 Week Old Chicks | Between 45 Degrees F and 80 Degrees F |
| Adult Chickens | Ideal Temp is 70-75 Degrees F, At Least 45 Degrees F |
By providing a warm, draft-free coop, you can help your chickens to stay healthy and comfortable all year round.
Signs of Heat Stress in Chickens
Chickens are remarkably resilient creatures, but even they can succumb to the heat if the conditions are extreme enough.
There are a few signs to watch out for that can indicate that the chicken is experiencing heat stress.
Lethargy and Weakness
If a chicken is too hot, it will start to feel
weak and listless
. Your chicken may stop moving around and
stop eating.
You may also see that your chickens are
sleeping a lot.
Increased Heart Rate
A chicken's
heart rate will increase when it is too hot
. Increased heart rate can cause heart attack and other heart conditions that
can be fatal.
Difficulty Breathing
Hot temperatures can make it hard for chickens to breathe. They may
open their beaks and gasp for air.
If you see any of these signs in your chickens, it's important to
take action to cool them down
. Move them into a
cooler area, provide fresh water, and mist them
with cool water if possible.
Read More:
What is the Best Bedding for Chickens in the Winter
? We cover the best bedding for your flock for the winter (and year-round!)
How to Cool Down an Overheated Chicken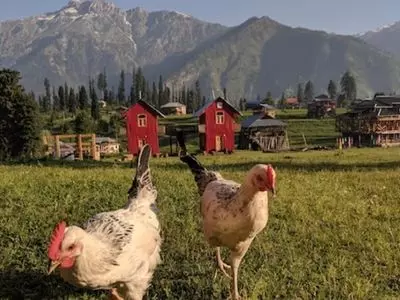 If you notice that your chicken is panting heavily, has ruffled feathers, or seems lazy,
it's important to take action immediately.
Here are a few ways to cool down an overheated chicken:
Move the chicken to a shaded or cooler area.
Spray the chicken with cool water.
Place a fan near the chicken to create a breeze.
Give the chicken a cold treat to eat, like frozen grapes or an ice cube.
Chickens should not be allowed to get too hot.
If you notice your chicken starting to overheat, help them stay cool and comfortable.
Here's a great video showing how you can keep your chickens cool in the summertime:
Read More:
What is a Chicken Tractor Coop
? Chicken tractor coops can be easily moved to give chickens fresher pasture! Learn more!
How to Prevent Heat Stress in Chickens
Here are some tips to prevent heat exhaustion:
Provide access to shade and water at all times. Chickens need to be able to escape the heat and will drink more water than usual to stay hydrated.
Monitor the temperature. While chickens can handle warm weather, if the temperature gets too hot (over 90 degrees Fahrenheit), they can start to experience heat stress.
Keep an eye on their combs and wattles. These fleshy growths on a chicken's head help regulate its body temperature. If they become bright red or swollen, it's a sign that the chicken is overheated.
Inspect for pests. Fleas, mites, and ticks love the warm weather just as much as your chickens, so check them regularly and treat them accordingly if any problems arise.
Read More:
Why Do Chickens Lay Unfertilized Eggs
? If you're looking to learn more about chickens then check out why they lay unfertilized eggs.
Conclusion
Depending on the breed of chicken, the climate where they live, and other factors, different temperatures could be too hot or not hot enough. We hope this article has given you a good starting point regarding what temperature ranges are safe for your backyard chickens. Always be sure to do your research and follow the guidelines set by your specific state or country when it comes to raising poultry!