Upon having a shortage of supply for goats, farmers or producers begin to seek for an alternative. One of the options is potatoes. Some people think that it's not possible to feed your goats with potatoes, however, some farmers in favor of potatoes agree with the idea of having them as a backup plan. So, can goats eat potatoes? Let's find out the details.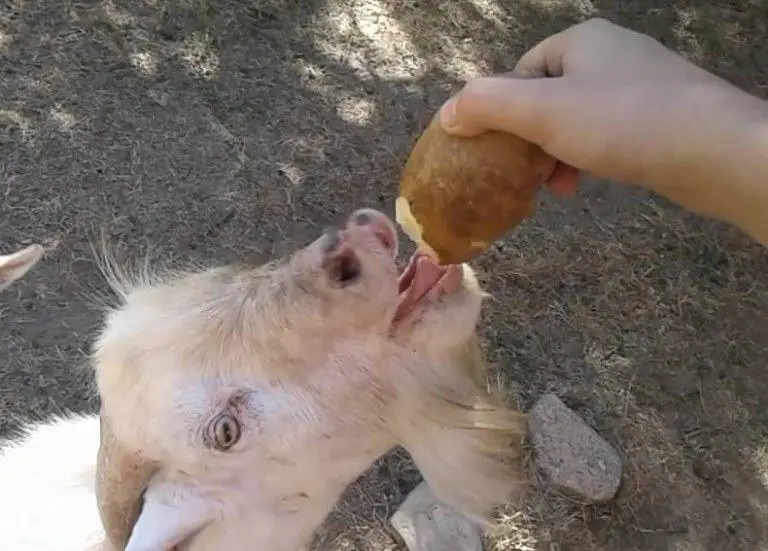 *This post may have affiliate links, which means I may receive commissions if you choose to purchase through links I provide (at no extra cost to you). As an Amazon Associate I earn from qualifying purchases. Please read my disclaimer for additional details.
Nutritional value of potatoes
Those potatoes that are unsalable because of their size or quality or are discarded because of low market value are sometimes considered an economical option for farmers. So, let's check out the nutritional value of potatoes to see if it's a good idea to feed your livestock potatoes.
Potatoes are very high in energy. The high starch content of potatoes is at the same level as feed grains in terms of energy on a dry matter (DM) basis.
Potatoes provide vitamin C that works as an antioxidant.
Phosphorus content of potatoes is equal to corn, corn silage, and alfalfa.
Potassium content in potatoes is as high as alfalfa, higher than corn silage, and five times as much as shelled corn.
The natural nutrients in potatoes may prevent different sorts of cell damages, and can even support the digestion and blood pressure.
Vitamin B6 in potatoes is necessary for neurological health as it creates serotonin, dopamine, and other useful brain chemicals.
Can goats eat potatoes?
There are a lot of arguments about whether cattle in general and goats, in particular, should be fed with potatoes. Is it really safe for farmers to give it a try? Or do potatoes contain some kinds of toxins that are harmful to goats?
1. Should potatoes be a primary source of food for goats?
As all farmers know, goats have a very high demand for protein. The lack of protein during a meal can eventually lead to a deficiency, which means goats may have some symptoms of weight loss or an eating disorder.
However, since potatoes are medium to low in protein, they cannot replace the main source of daily feeding. That's why they can only be a good treat to give some taste or to be mixed with the main food when accepted.
It is acknowledged that only 5% of a goat's diet is what we call treats, so this is where you can add potatoes into your goats' diet.
2. Do all goats like potatoes?
You may not believe it, but goats know what they eat. It is recommended that farmers should have a test by themselves. Only when you feed them, you'll know if they love potatoes or not.
Some show a lot of interest, but some may refuse to have even a little bite. If your goats are willing to eat potatoes, you are safe to know that it is suitable and can offer him the same next day. Otherwise, he will not even touch the potatoes.
3. Can dairy goats eat potatoes?
Potatoes can be added properly into daily meals of dairy goats. Some researchers think that it is better to adjust the number of potatoes fed every day – less than 20% of overall ration DM.
If higher levels are incorporated, this may cause milk fat depression.
Tip: It is best to use washed potatoes for dairy goats.
4. Are all parts of potatoes edible?
As potatoes belong to the nightshade family, the vines and tubers can be toxic to livestock. The toxins in potatoes include a combination of sugars and at least different steroidal amines to form a variety of glycoalkaloids.
So, can goats eat potato plants? Well, the answer is a "no", except for the sweet potatoes leaves.
The reason for this problem is that potato sprouts and potatoes will turn green because of the exposure to the sun, and even drying is not a solution to this.
And, can goats eat potato skin or just peeled potatoes? Yes, if washed thoroughly, the skin of potatoes (not the green one) is safe for goats to eat.
Remember to: 
Not use potatoes as a primary source of nutrition for goats, but only as a treat.
Always get control of the number of potatoes in a meal.
You should know: Can Goats Eat Bananas
Potatoes feeding methods for goats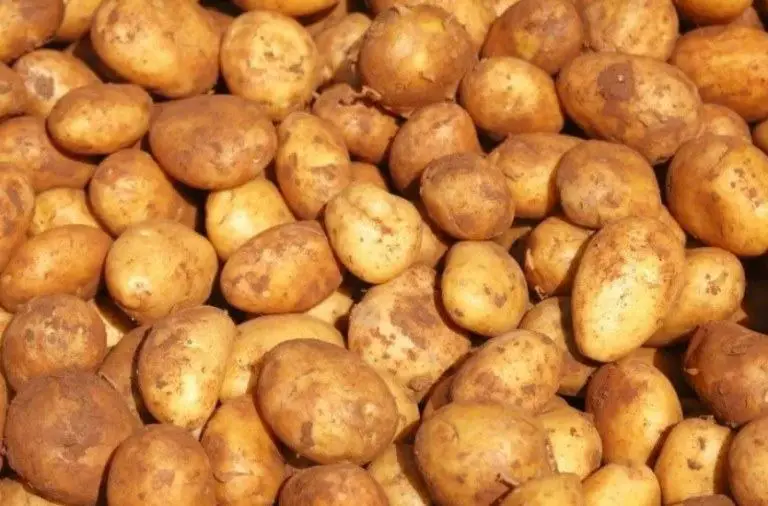 There are different ways of processing potatoes for goats. You can choose to:
Use raw peeled potatoes.
Feed boiled potatoes with a little bit of salt.
Mix with a usual meal of goats comprising hay or grains.
Potatoes before fed should be washed thoroughly, then chopped or crushed to avoid goats choking. However, when chopped or crushed, the storage time of potatoes will be shortened.
A new way of increasing storage time is to ensile potatoes. They can be mixed with dry forage to reduce the moisture content. A recommended combination includes 500 lbs. potatoes and 1 ton of corn silage, or 1 ton of potatoes with 400-500 lbs. of chopped dry hay or straw.
Read our related article, Can Chickens Eat Potatoes Skins? See how to feed your chickens potatoes and what to avoid!
Conclusion
In short, it is obvious that potatoes are loved and proved to be a choice of many farmers. However, as a goat lover, you always need to take care of whether your goats can eat potatoes and how to offer them properly. Sometimes having a new menu with potatoes, and at the same time saving your budget, is worth giving a try.