A wise man once said: "The best sheep shear is the one that suits your need the most", oh wait, that was me. Do you know what would happen when a sheep left unsheared? They would eventually become a furry big ball and be swallowed in their own wool.
There is nothing we can do for our sheep more humane than helping them get rid of their own wool. They are not born with the ability to shed themselves. Imagine being covered in the woolen fence until they're unable to walk, eat, or even breathe normally, that is horrible.
If you are raising sheep, you would have known that already. So, below is the list of 7 best sheep shears on the market that are waiting for you to pick.
*This post may have affiliate links, which means I may receive commissions if you choose to purchase through links I provide (at no extra cost to you). As an Amazon Associate I earn from qualifying purchases. Please read my disclaimer for additional details.
Top 7 Best Sheep Shears & Clippers on the Market 2020
In-depth 7 Top Rated Sheep Shears Reviews
Read More Reviews on Amazon.com
If you're looking for a great heavy-duty electric sheep shear, then this one is right for you. Sheep Shears Pro is a heavy-duty shearer with two initial Beiyuan blades and an easy-to-use design that makes shearing operation effortless.
Unlike other shearers, you can adjust the speed of it to 6 levels, making it very useful to shear not only sheep but also large dogs, goats, or even rabbits. It has 2 Beiyuan blades with different designs to make the shearing more precise.
The Sheep shears Pro was made for pro-level tasks while still keeping the ease of use. On top of the blades is the tension-adjust rotator, its motor power is at 500W and the speed varies up to 2400 RPM. This shearer also features overheat resistance.
Pros
Cons

Dual blades design
6-speed control
Heavy-duty shearer
18,3 feet cord for easy maneuvering
Can be used for big dogs, goats, even rabbits
Overheat resistant tech

Quite heavy for those who have small hands
Some complaint about the blades sometimes fall out
Read More Reviews on Amazon.com
This clipper has a 5000mAh battery that allows operating anywhere. The battery is able to keep it running for roughly 8 hours each charge. The battery can also be charged inside or outside of the clipper.
It has a pretty fast rotor at 7000 RPM and produces just 50db noise. It is a very quiet clipper for grooming pets. It can be used to shear sheep as well thanks to the sharp 35 titanium alloy blade and movable ceramic blade.
Given its compact design and versatile operations, this is one of the best sheep shears for beginners.
Pros
Cons

Rechargeable battery
Up to 8 hours of running
Multipurpose use for pets and even sheep
Low noise

Might get hot after a while
Does not do well with long hair
Read More Reviews on Amazon.com
This sheep shear is very durable since it is made of reinforced and strong nylon polymer material to minimize noise and vibration. The sharp blades are made of steel alloy.
If you are owning a large flock of sheep, this one is right for you. The separation between this shear and the others is the higher 2500 RPM that can shear a number of sheep in a short time.
This heavy-duty sheep shear also features the tension adjust rotator for a better job on different animals. As this shear is easy to use, you're not going to have to pay additional costs when hiring a shearer.
Pros
Cons

High speed of 2500 RPM
Sharp blades
Strong and robust materials
Easy to use

Blades are dull quite quickly
Read More Reviews on Amazon.com
This is a professional sheep shearer, no doubt about it. This is also the most expensive shearer on the list. It is pricey since the motor is made of a permanent rare-earth magnet that is smaller, quieter and generates less heat than any other large clippers.
It has a fan that forces the air current toward the head to make it 20 degrees F cooler. The shearer comes with a 16-feet cord that allows ease of use. The shearer is covered by a 3-year warranty for all parts from the date of purchase.
Pros
Cons

Rare-earth magnet motor
Sleek and lightweight design
Great for large flocks of sheep
Great customer service
Read More Reviews on Amazon.com
With a power of 500W and 2400 RPM motor, this shearer does quite a good job when shearing sheep, alpaca, llamas, goats, and other large hairy animals. It has 6 speeds that are adjustable for each scenario, 1-3 for precise use and 4-6 for faster trimming.
It was made with sharp blades with high hardness and had a really tough design that allows heat resistance and low vibration when operating.
Pros
Cons

Power full 500W
High-speed motor at 2400 RPM
6 adjustable speed
Tough design

Blades are quite easy to get dull
Read More Reviews on Amazon.com
This clipper is honestly a decent tool. It has a power of 380W that is enough for effortless operation. Despite having a 2400 RPM motor, it doesn't make a rough vibration that scares the animals.
The body was made of heavy-duty nylon material, so it weighs just 7 pounds, making it light yet still durable and easy to use. On top of the sharp blades is an adjustable tension rotator so the operator can change easily according to the type of work.
Pros
Cons

Affordable price
Heavy-duty durable nylon build
Lightweight design
Has vents to cool the clipper
Read More Reviews on Amazon.com
The only non-electronic clipper on the list is the best for those who only have 1 or 2 sheep and want to save a considerable amount of money.
The Zenport shearer is made from carbon steel, a very durable material. That means this thing can do things with ease and still remain sharp for a very long time. It's a double bow, with an ergonomic handle for ease and strong grip. The spring-loaded functions ease the shearing of sheep, as the blades open automatically after each cut.
The 6.5 inches long blade is flexible for use in other activities. It is used not only for shearing sheep but also for gardening or harvesting.
Pros
Cons

Affordable
Not require power to use
Multipurpose use
Ergonomic handle

Not open wide enough in some cases
What to consider before buying a sheep shear clipper?
There are many things that need to be taken into account when you purchase sheep shears.
1. What is RPM?
RPM stands for rotation per minute. The higher RPM is, the stronger the sheep shearer is. High RPM allows you to work more easily and faster. And the faster the shearing process is, the more relaxing it will be for you, the more convenient for your animal.
2. How is the sheep clipper power?
A wonderful electrical shearing tool is what is equipped with strong enough motor power to perform shearing for long without burning or heating, or at least less heating.
If you go for a sheep clipper that has less power, you will have to give them frequent breaks so that it can cool down before continuing to work if you don't want to break down soon. The recommended wattage is between 320 and 380. Items that meet this requirement are ensured to be strong enough to shear thick heavy long fleece.
3. Is shear blade tension adjustable?
Whether the blade tension is adjustable or not determines whether sheep shear is the best and worth buying. It depends on the thick or heavy level of fleece which requires you to adjust to the blade. If you need to shear a heavy sheep coat, the blade can be too tight and you might want to loosen them a bit or vice versa.
4. How about the vibration and noise?
A perfect sheep shear should create less sound and vibration. Your animals might be scared and run away once you activate the machine. It also might be harder for you to control one that vibrates much and is very noisy. The job's nature itself is stressful enough, isn't it?
5. Is it light or heavy?
Don't underestimate this feature. The sheep shearing takes a lot of time, especially when you have lots of animals that need grooming on your farm. Hence, I guess you don't want to hold something heavy for so long. In fact, some of the sheep clippers are really heavy. Look for something that is light in weight.
6. How about the price?
There is a high chance you will be confused with options introduced to you in the market. There are options which are exorbitantly expensive and those which cost only half the others. Of course, most of the time the cheaper the item is, the more plastic it contains and the more easily it breaks.
However, stay cautious, check prices, compare features to avoid ending up buying an item that has the same features but cost more money than others.
7. How many sheep do you need to shear?
If you just have a minimal number of sheep, the best advice is to make a simple, money-saving purchase. As a result, there will be fewer features to it, like item #7 Zenport ZL122G. However, we think it covers all your needs already. And in case you have more lambs and different animals that need grooming, you had better invest in a better, more durable and expensive tool.
What to do before shearing sheep?
What should you prepare before grooming animals?
1. Make sure no dust remains in the hair
If you haven't finished this task, the more the dirt is still present on the coat, the faster the blade is going to wear out and the more you have to stop for breaks and sharpen the blade.
This task is going to affect your clipping efficiency. Hence, we highly recommend you to wash your animals' hair before clipping. Those who have followed this advice often clip 20-30 club lambs between sharpening times with one condition that the blades have been checked and sharpened properly on a lapping machine. Those who still leave soil and sand on lambs clip less than 2 lambs between sharpening times.
It is suggested you wash your animals with soap and water as it can remove dirt better and faster. If this is difficult for you, an alternative is to use a high power vacuum or blower to get rid of as much dirt as possible.
3. Let the wool dry and stomach unfilled
A sheep with a full stomach also experience discomfort while being shorn. Also, you should shear dry sheep only and the shearing process should be done on a clean and dry area such as wood, carpet, canvas, or concrete, etc. After each sheep, the shearing are should be swept to leave the room and provide a clean surface for coming ones.
4. Classify sheep into specific groups
You should pen up all your sheep prior to shearing and classify them into the following groups: lambs, yearlings, rams and ewes by breed and/or grade. They also should be fasted until after shearing if you want a cleaner shearing ground.
4. Control the animal
Not many animals enjoy the sound of shearing or the feel of the shear on their body. If they are not aware of what we are doing, they might experience cuts or injuries and you might also have unexpected accidents. To protect all of you, make sure they are restrained well before you perform clipping.
5. Leave the colored or black sheep to the final
The quality of their wool clip can improve if producers follow the following steps. Colored or black fibers can really reduce the quality and value of a white wool clip. Hence, black, colored and spotted sheep should be shorn finally and kept away from the white ones.
Check more: Top 7 Best Solar Fence Charger
What to do after shearing?
1. Keeping the Fleeces
Once the shearing is done, belly wool and tags should not be mixed with the rest of the fleece. It is very important for every sheep producer to learn how to skirt and roll a fleece. The steps should be as follows: first, you throw the fleece flesh side down so the dirty end of the fleece faces up. Get rid of off-color wool, tags around the breach, short and matted wool, and other contaminated areas.
After that, you roll the two sides of the fleece towards the middle and roll the fleece from one end to the other end. Ensure the flesh side will face out to have a clean and nice package for customers.
2. Packaging wool
Small enterprises or producers can put their fleeces in cardboard boxes or plastic bags instead of packaging them in poly feed sacks or burlap bags. As those containers will contaminate the wool. For big enterprises, wool should be bagged in large square bales. Clear plastic wool bags is another alternative in terms of packaging material.
Dissimilar grades or classes of wool should be packed in different containers. Furthermore, all belly wool, tags, off-color, burry, seedy, chaffy, cotted, stained or dead wool should be dealt and packed separately.
Different colors should be packed separately. All bags of wool should be labeled clearly. You will earn more if your wool is classified, labeled properly and professionally. Before they are sold, they should be kept in a dry and clean area.
3. Caring the sheep
Feed your sheep with more feeds to provide warmth and reduce stress for them.
Cover the sheep to keep them warm enough as the protective cover has already been shorn off.
Young sheep might be exposed to hypothermia as they have less fat for insulation. Keep them somewhere inside and cover them away from cold.
Why do sheep need shearing?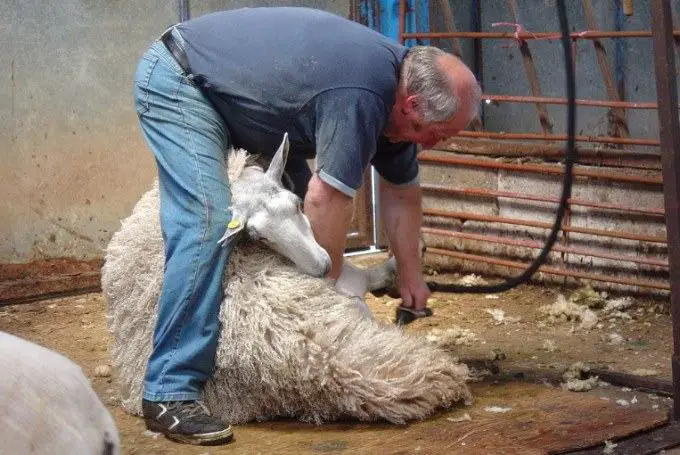 1. To ensure continuous growth
Most breeds of sheep grow hair nonstop so it doesn't take long for your sheep to overgrow hair. It is recommended to clip their hair at least once per year. In 2013, a normal sheep in the U.S produced an average of 7.3 lbs. of grease wool. It is very much up to breed, genetics, and shearing intervals, just like human hair.
Shearing is usually carried out in spring, as summer can be hot and your sheep will not be overheated.
2. Prior preparation for lambing
Shearing is often done before lambing. Shearing sheep prior to lambing can be beneficial in many ways. Sheared sheep require less space in the barn and around feeders. Lambs can nurse sheared ewes more easily.
Tips for a successful sheep shearing
I guess you have read a lot when being this final part. Too many things and a bit frustrated, right? If you have determined the best sheep shear to buy, the shearing task can be done confidently after you finish reading this part.
1. Clear all feed for sheep the night before a shearing day
It is not good for the animal to be sheared with a full stomach. You can let them eat some hay on the day before and clear them off in the evening and on a shearing day.
2. Ensure the sheep are dry and clean
Herd them into a shelter where you can get them easily and out of the rain or wet weather. You might not want to spend more time on collecting them from a far place. You can prepare a lead rope to catch your animals more easily.
3. Choose an appropriate and clean location
The place should have electricity and extension cords ready. You can pick a shaded location in case it is too hot or rainy. Collect bags or boxes to gather wool and in case there is too felted or soiled wool, you should throw them away right away to save time for later skirting.
4. Follow good biosecurity measures
You should make sure the blades are clean, disinfected and work well. In case your animals are infected with CL or other infectious diseases, you should be careful or keep the shearer informed if you hire one. This is to avoid foot rot or scald to spread out to other animals.
5. Hot weather might cause stress for your animals
Move them into a shaded location and pay close attention to them. If they experience signs of tongues hanging out or any respiratory problems, it implies that your animals are suffering from heat stress. If the situation is serious, arrange another day rather than insisting on doing it on the same day. Feed them water constantly to cool them off.
6. Take notes of anybody or skin issues
Be careful with those that have any lumps, skin issues, or wattles to take extra cautions while shearing them.
7. Shearing day is shearing day
Shearing is stressful enough for your animals. Don't try to dose worming pastes or liquids, vaccines or other medications, or even trim their feet. That will just double both your and your animals' stress. And it might take you more time than you expected if those tasks are done separately.
8. Keep other distractors in far proximity to the shearing place
Some farms allow visitors, especially little guests to come and learn about their animals. It can be of educational value. However, on a shearing day, it is best not to let them come near to the place to avoid causing stress to animals. But if you allow them to watch, remind them to keep quiet all the time.
Conclusion
Choosing the best sheep shear among thousands of them is quite impossible. Luckily you've got us. If you want a best-rated overall, you should choose the #1 Sheep Shears Pro. It is the best you can get in its price range when considering the number of jobs it can handle, the design and blades material it uses.
You are a beginner? The #2 HONGNAL Pro Pet Clipper is just perfect. Its compact design and simplicity in operating can help you get used to the shearing work. Not to mention that it is in fact a versatile clipper that does not dig a hole in your pocket.
Finally, if you just raise a sheep or two, the #7 Zenport ZL122G is a good buy. This clipper would not only save you a considerable amount of dollars but is also a good gardening tool.
More product reviews: